Saturday, September 17, 2005
Going To See "Sugarland" Tonight
Tonight we are going to see a free concert in Palmdale, California. The group, "Sugarland" is performing. I told you about them a while back. It is about a 2 hour drive to Palmdale from here. We will go in our car.
First thing though we are driving over to the Ventura Harbor to see the start of the Kenectic Sculpture race. Check it out at http://www.kineticrace.com/ This a a fun annual event at the Ventura Harbor. They have these race all over, not only in Ventura. They start here, http://kineticsculpturerace.org/ Now many cities host these races, and they even have them around the world. Check this link for locations http://kineticsculpturerace.org/links.shtml
Did you see our article on small shrink wrap. http://rv-living-magazine.com/small-pallet-wrap.html We carry it in the motor home. When camping this week, the picnic table was too thick for our table cloth hold down clips. We use some shrink wrap to hold the table cloth in place.
The next day the mini pallet wrap on the table was also convenient to tuck a paper towel under so it wouldn't blow away.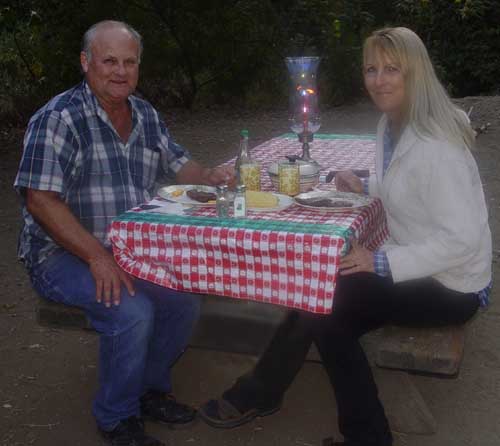 See the green wrap at both end of the table?
Did you notice the candle on the table. We almost always have a candle light dinner when camping or when at home. Look at our page on candlelight dinners http://rv-living-magazine.com/candle-light-dinners.html
RV Living Home
Honda Generators
Making Money While RVing
Site Feed