Sunday, September 18, 2005
Time Running Out -- Next Rally Thurdsday
We will be leaving for the Lake San Antonio Rally Thursday, a day early. I am really looking forward to this camping trip. The people are great. The campground is nice and the scenery there is beautiful.
The Bounder is ready to go, except I need to fix the toilet. Water leaks out of the bowl and the blade doesn't close completely. I hope I know the problem and can easily fix it. I am almost sure the spring holding post is bent. It was thin metal instead of a heft stake. I saw that the first time I removed it to replace the gaskets, but that was when we were total RV newbies. It really didn't register that it would be a recurring problem. Thetford did a poor design with this, unless of course, they planned it that way.
The Sugarland concert we went to last night was great. The opening act was Vonda Shepard of Ally McBeal fame. You can see her at http://vesperalley.com/ Sugarland followed and was terrific. The closing song was, "Baby Girl". Jennifer Nettles had 5 grammar school girls who were in the front row come up and sing the chorus with her. She had watched them singing along with her songs and invited them up on stage. It was a perfect ending to the concert.
OH NO!! Half way there I realized my camera was back on a desk charging. I tried to use Sharon's camera, but it takes very poor concert pictures. Of all I took, ALL are blurry.
Earlier in the day we had attended the Kinetic Sculpture race and I needed to download and erase pictures and re-charge the camera.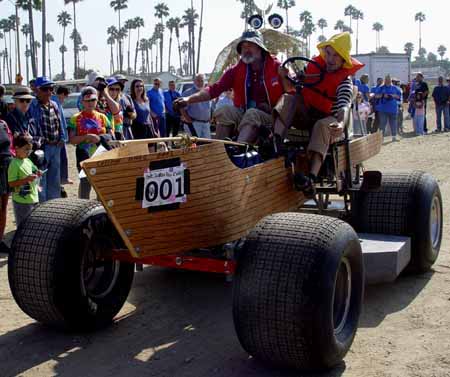 Ahab even had a "wooden" leg.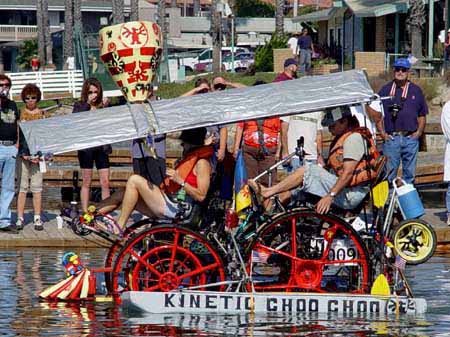 Lots of work go into Kinetic Sculpture Race Vehicles
RV Living Home
Honda Generators
Making Money While RVing
Site Feed