Friday, July 29, 2005
Back At The Warehouse -- Back To work
Just as we were packing to leave the campground a duck came into the campsite begging for a handout. Sharon noticed that she had a piece of fishing line trailing behind her. We both knelt down and fed her bread until she was almost beneath my knee —– I GRABBED HER! The duck had a fish hook through the top of her wing. Sharon got a towel to put over her head and a pair of wire cutters. I cut off the top end of the fish hook and and pulled it out from the pointed end. I didn't pull it back out, I pulling it on through so it would do the least damage possible.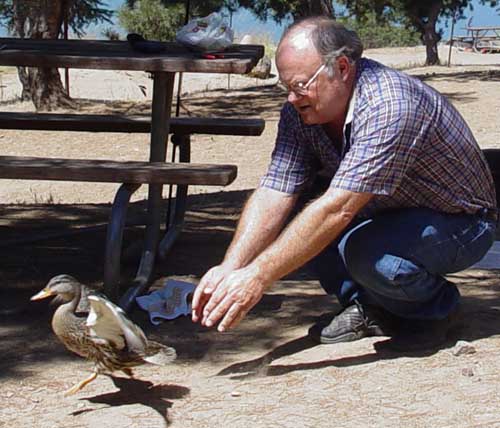 When I took the towel off of her head and set her down, she took off and never looked back.
Just as I got the Bounder engine started a woman came up to the door asking if we had any jumper cables. Normally we carry them, but I had taken them out when the new truck had a dead battery. I put them in the truck just in case. LUCKILY, we have a Vector battery charger which has a 100 amp car starting function. I fired up our Honda generator and connected the battery charger and BINGO! they were going again. She was very happy. The campground was almost empty and no one else had jumpers.
What a great two days off. We left the campground and went back to the beach until dinner time. The view outside our door became a "surf camp". Classes for teenager to learn to surf. Kids where so excited when they were able to stand up on a board and ride a wave for a little while. I tool about 30 pictures of the kids and then burned a CD which I gave to one of the parents.

Being parked at the beach in an RV is great. Lunch is a cinch. Later in the afternoon muffins got baked in the oven. OH, were they good. Which reminds me. I am down to 215.5 pounds as of this morning in spite of eating almost all of the muffins by myself. Sharon is a slow eater and a light eater. This means by the time she gets around to getting her share of anything, her share is already gone.
Last night Sharon totaled up our nights of camping. Last year from March until the end of the year we were out 19 nights. This year we have been out 21 nights so far. We didn't check how many times we only went day camping.
RV Living Home
Honda Generators
Making Money While RVing
Site Feed