Friday, May 26, 2006
Back To Work
Camping was great, but it is time to get back to work. I was looking at our months income and we are behind where we need to be to pay the bills in an ongoing manner. We have this months rent for both places, but are still falling behind for next month. We have got to work both harder and smarter or we will have a problem.
I told you about the "Tiki Bar" Here it is.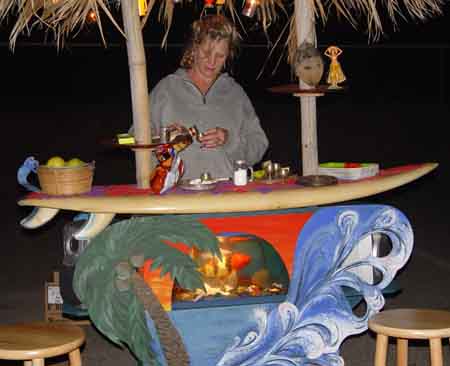 As I told you, there live gold fish in the fish tank inserted into the bar. The group has mostly toy haulers, so bringing all of these "toys" is a lot easier than it would be for people in other RVs.
I think we will try to camp once a month until we get up to speed financially. After that once or twice a month with some day trips to the beach thrown in just life we have in the past.
When big changes happen, you have to make big changes to go along with whatever else is going on. I see this as good in our case, but it is taking a lot of effort to get on track and know exactly what we are doing.
RV Living Home
Honda Generators
Making Money While RVing
Site Feed