Monday, November 21, 2005
Our Checklist Is Printed -- We Are Loading
We are in countdown mode for our 4 days at the beach. Our check list is printed and we are loading the Bounder. This morning I went over to the lumber yard and bought two pallets of firewood for $15, well $16.09 with tax. I get the cut off lumber pieces instead of cord wood. The lumber yard is close and convenient.
I am excited about taking another 4 day weekend in the middle of the week. We will go back to work when we return from the beach. So, Saturday and Sunday will be work days for us. That is the nice thing about working for yourself. You designate when the weekend is. You control when the days off are.
Yes, I will be posting when we are camping. We use our Verizon cell phone to connect to the internet. The connection is about ½ the speed of DSL. Lots faster than dial-up. I am about ready to look into WiFi or connecting my laptop to the internet. It will not work at places like the beach, but it may come in handy other places. I have the card, I just have not plugged it in and checked it out.
Sunset Last Night Behind Our Business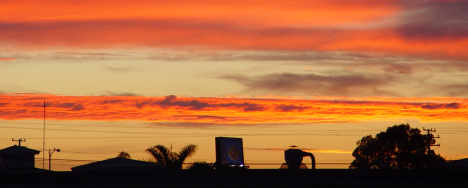 RV Living Home
Honda Generators
Making Money While RVing
Site Feed