Friday, March 25, 2005
Mar 25, '05 Good Friday for Irving Johnson & Crew
Last night the Irving Johnson was freed from the beach. Two tugs pulled in unison and almost immediately after they started pulling you could see the ship slowly pulling itself upright and moving out to sea. The crew and crowd watched and cheered.
Headed out to sea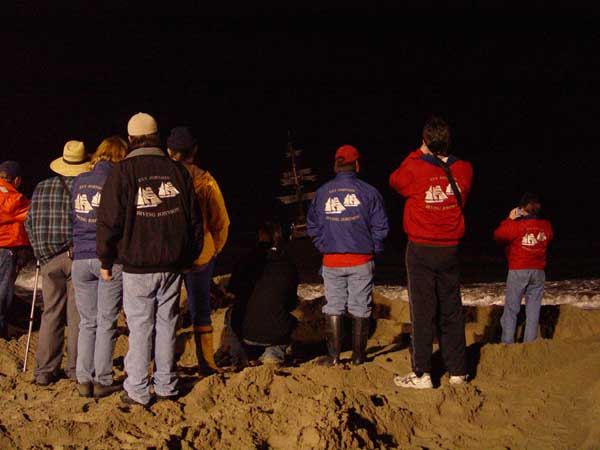 It was exciting and emotional to stand on the beach and watch her moving out to see. When she was about 1/4 mile offshore a news helicopter spotlighted her. It was beautiful to see her lit up in the dark.
You have to give a lot of credit to the crew and supporters of the Irving Johnson. As soon as she was offshore and out of site, they all began to clean up the beach. They removed trash, piled tools and gear and were getting things onshore ship shape.
Today we went over and visited the ship and crew in the Channel Islands Harbor. The word is that in spite of being hit by 4 cycles of high tides, she "weathered the storm" and came out of that pounding in very good condition. Yes, she got a hole in her bow and damage here and there, but her structure held and in spite of everything she went through her captain is happy with her condition.
Sharon hands "Captain Mom" a bouquet of flowers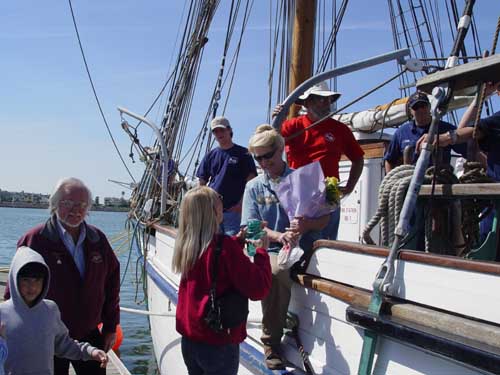 The crew and everyone on the beach were "gracious hosts" allowing Sharon and I to photograph this grounding up close. In spite of the situation they were friendly and helpful for a couple "locals" taking pictures. As I said, ALL of our pictures will be given to them as quickly as I can edit and delete some of the over 1000 photos we took.
If you love sailing and want to learn more about the Top Sail program for getting youth on tall ships to learn discipline, working as at team, pride in their work and a spirit it "family", check out the website at: Irving Johnson 's Internet Home Page
You can help return this ship to its magnificent stature by making a small or large donation to this nonprofit organization.
RV Living Home
Honda Generators
Making Money While RVing
Site Feed