Friday, January 28, 2005
Jan 28, '05 Poky Is Staying Inside
We woke up to rain again today. Luckily we do not have to be out in it today, other than walking the dog here at the warehouse. He is not very anxious for his morning walk. At night when the gates get locked we will let him out in the fenced back work yard. When it is raining he will poke his nose out the door then turn around and run back in. He does not like the rain much.
Poky on his heated pet mat-- preferred rainy day spot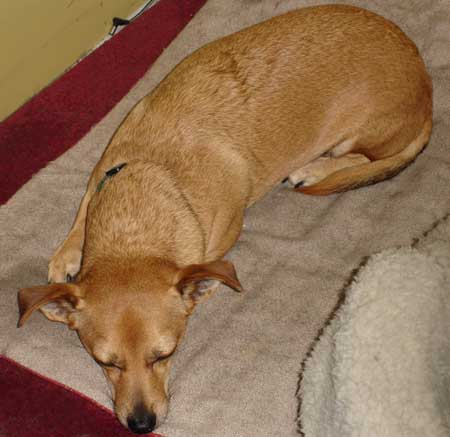 Last night I was writing a couple more pages for the website. This time I am writing about making money on the road. We have ways we have earned an income and ways we are working on. Our goal is to make a living while full timing by using only the internet.
For years we have been selling on eBay. In fact eBay has been our sole source of income since the end of 1998. You can make money on eBay whether you are at home or on the road. You just have to adjust what you sell to the space you have. If you need an income on the road, eBay could be the answer. Check it out at Click here for eBay!
We will be looking into different ways people make a living
or supplement their income while full-timing. We will also be looking for your input. There will be e-mail links at the bottom of the pages we publish in the online magazine.
RV Living Magazine
RV Living Home
Honda Generators
Making Money While RVing
Site Feed