Thursday, November 24, 2005
Fun At The Beach
I don't think it matters where you camp, camping is just the best way to get away and relax. This trip has been excellent so far. Yesterday we saw dolphin and just at sunset a group of 6 to 8 seals swam by in the sun reddened water. It was a beautiful sunset with an added bit of excitement seeing the seals.
A couple hours before sunset we saw a group of dolphins swimming north. It is always exciting to spot the dolphins. We almost alway see them when we come to the beach.
We had a roaring campfire last night. This time we brought plenty of wood. We buy cut off lumber from the local lumber yard. It is $8 per pallet. Lumber burns hot and fast, so leaping flames are easy to make happen.
The campground is almost full. There are only a few spots left and all of them are reserved. You could not get into this campground without reservations this holiday weekend.
Our Bounder Campsite, Flowers and All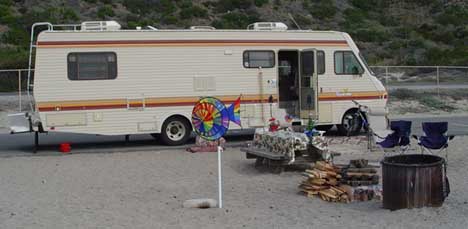 RV Living Home
Honda Generators
Making Money While RVing
Site Feed