Saturday, January 01, 2005
Jan 1, '05 Happy New Year
Today is the first day of the rest of my life. I turned 62 today and have opted to take early social security retirement. I will get my first check in February.
I'm not heavy into New Years resolutions, but I do have a goal for 2005. My goal is to go full time RVing. My wife, Sharon, and I have discussed this and we would like to be fulltimers by July 1, 2005
For many this would mean selling a house and disposing of belongings. For us, there is no real property to sell. It should be fairly simple to reach our goal, right?
OOPS!! Not so easy for us. We have a 6000 square foot warehouse full of obsolete electronic test equipment and obsolete computer equipment. Most of it we can probably sell for scrap. Our big problem is that we have literally over 2000 packed boxes of business and personal stuff. If we could get rid of ten boxes a day, it would take over 200 days just working on boxes.
WOW! July 1? Is that really a realistic date. We will find out as the year progresses.
Not only do we have our own stuff to deal with, but both of my parents died last year and we have their house, garage and store house full of stuff to sort and deal with. It is all stored in our warehouse.
This is a monumental task that seems overwhelming at times. Even if we never went fulltime RVing, we would still have to do something with all this junk.
For New Years Eve we decided to spend it camping in our 1988 Bounder, Class A motorhome. The ocean front campground was full. There were lots of empty spaces, but they were all reserved.
We drove one mile down the road to Sycamore Canyon Campground and they had plenty of empty spots. All dry camping with no hookups. There is shared water, but not at every spot. That is fine for us since we are self contained. There is a dump station just inside the gate. This campground is about an hour north of Los Angeles. Our camping fee, with a senior discount, was $13. Normal camping in season is $20.
Today is Jan 1. I started writing this at 11:00 a.m. by a nice campfire.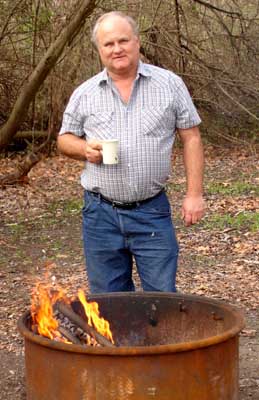 That is me, Bob
We only came here to camp for one night. Although we are not right on the ocean, we are across the street from it. We can not see the water, but we can hear the waves crashing on the beach. Sharon counted the campers here. There are only 17. Only 7 in our area. Very empty.
With only the two of us, we went to bed early New Years Eve. With no TV and no friends and family around it was just a quiet evening for the two of us. Very pleasant. We had a campfire all afternoon and into the evening.
One unique thing about this campground is that there is a large flock of wild parrots that live here. I saw about 15 and heard that there are at least twice that many.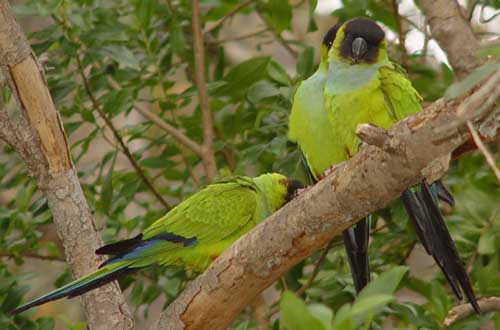 Parrots at Sycamore Canyon Campground
We are about to pack up and head for home. Check out time is 1:00 p.m.. We will secure the motorhome for travel and check out then.
When we arrived at the campground yesterday, the ocean was very brown and dirty just opposite the campground. There is a dry creek bed running down the side of the campground. We had torrential rains yesterday morning and it created a flash flood in the creek bed only (not into the campground). Other campers told us the flash flood happened just before we arrived. Last night the creek was still running, but this morning it had completely stopped.
We are home now. Dinner was left over roast beef from yesterdays dinner. Delicious. Good Night and Happy New Year.
The campsite GPS location is N34 o4.360 W119 00.977 elevation 100 feet. It is 12 miles south of Oxnard California on Highway 1 or Pacific Coast Highway. It is just south of Mugu Rock
RV Living Home
Honda Generators
Making Money While RVing
Site Feed