Monday, August 08, 2005
Tall Ships And The Fair
Yesterday was interesting. We visited the tall ships. It only cost $10 to to tour all of the ships. A real bargain. We spent the whole day at the harbor. The picture below is the Exy Johnson, this sister ship of the Irving Johnson, the ship that went aground here in February. They were both built in 2002 and cost $4.2 million each.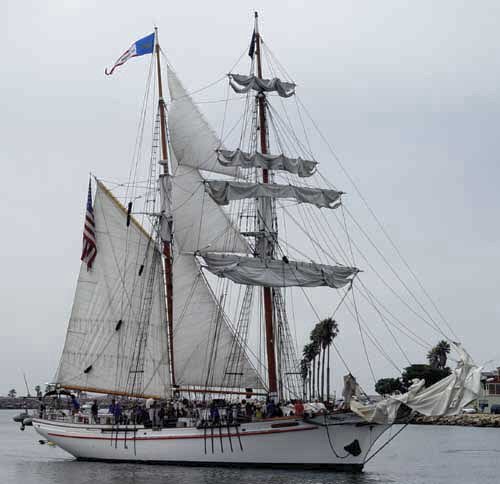 Tall Ship, "Exy Johnson"
We are getting ready to go to the fair again today. The country group, "Lone Star" is performing tonight. We like their music, but they are a fabulous group on stage. They play for and with the audience. You leave the show with a little joy on your heart. They are really good.
Yesterday, on the way to the fair we saw a garage sale sign and just had to stop. We bought a bunch of candles for the motorhome. I also paid $10 for a model glider airplane. It has remote controls and the whole package. I am charging it right now. The wingspan is 6 feet 4 inches. This is a serious remote control glider. The guy said he hadn't used it for years. I love the bargains you can find at garage sales. Either the glider will go traveling with us or I will give it to one of my sons.
My son in Bear Valley Springs, the big gated community, bought some stryofoam gliders to play with, so he will get this one if I don't get excited about flying it. When I saw his glider, I bought a couple of the styrofoam ones. Now I have the "real deal". It might be fun to play with while out camping.
RV Living Home
Honda Generators
Making Money While RVing
Site Feed