Wednesday, September 14, 2005
Motorhome Brake Job Completed
Well, I finally got around to working on the rear brakes on the Bounder. The entire job for both rear brakes took 2 1/2 hours. In the picture below I am using a pry bar to help put a tire back on. The pry bar made it a lot easier getting the tires off and getting them back on. The 19.5 inch tires on my motorhome weigh 110 pounds each. Using a little leverage to move and lift them saves stress on the back. I think I will start carrying that pry bar in the Bounder in case I need to change a tire on the road.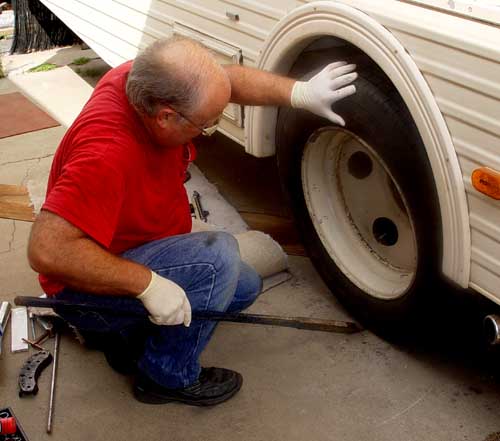 Bob Putting A Tire Back On After The Brake Job
I need to get the Bounder smog checked. I also need to take it out for a drive to be sure the brakes are acting OK. So, I think that I'll take her out this week and maybe spent a night at the beach. Thursday would be a good day to go out and then come home Friday.
Saturday we have a FREE concert to go to. We will be seeing the country group, "Sugarland". One of their top songs is, "Baby Girl" The venue is in Palmdale, California. You can read more about it at Palmdale Amphitheater If you would like to see who the group is, you can check them out at their website at Sugarland and you can hear a clip of "Baby Girl" on this page Free Play
RV Living Home
Honda Generators
Making Money While RVing
Site Feed