Friday, January 21, 2005
Jan 21, '05 Pot Roast Dinner
Today, I am focusing on a plan. I am not quite sure what that plan is, but it is slowly crystallizing. The decision to take more time to get ready to go full-timing has really reduced the stress in our lives. We feel more relaxed. I think this will work out much better with time to think and plan.
Our 2004 Chevy Cavalier is back from the shop. It had a leaky trunk and they fixed it under warranty. Now is smells bad. The had to paint the rusted areas in the trunk. It is Sharon's car, so she is not to happy with the smell. I guess we will leave it open as much a possible tomorrow to air out.
We will be going to see the winter resting place of some of the Monarch Butterflies in Ventura, California. It is one of the place they congregate in winter. It should be a fun day. We have lived here six years and this is the first time we decided to go to the park where they are.
I am writing another page for the website, but it is a slow process. I am trying to learn to use CSS or a method of making pages easy to build and look alike. I had hoped to write a couple pages today, but I am stuck with the look and feel of the page instead of the content. The next page is on Honda generators.
I guess I have not show you a picture of our 1988 Bounder motorhome yet. Well, here it is.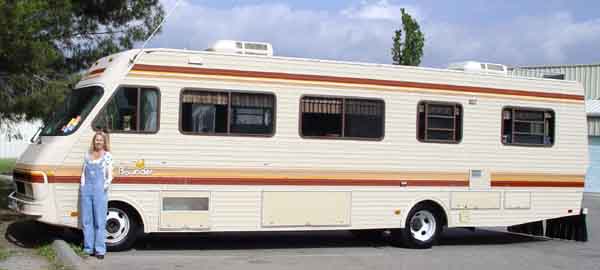 Sharon and our Bounder
Sharon is out in the motorhome cooking dinner. Tonight we are having a pot roast with plenty of onions, carrots and potatoes cooked in with the roast. I have finally convinced her to cook the onion in quarters instead of cut up fine. To me they are much better that way. It will be another candle light dinner as usual.
RV Living Home
Honda Generators
Making Money While RVing
Site Feed