Friday, November 04, 2005
Found A Dog This Morning
We are back and off to a slow start. This morning we were walking Poky and found a loose golden retriever dog. It had a lamp shade collar on, the kind animals wear after surgery. I removed Poky's leash and had Sharon carry him. I went across the street and called the dog. Luckily he was friendly and let me put my leash on him. He was well mannered and sat when I told him to sit. He walked with us on the leash and only pulled a little.
The dog did not have any tag or identification. He only had a collar. Sharon called the local pet hospital and they said to bring him in and they would scan him for a chip. No chip. They said to leave him with them and they would see what they could do and if nothing else they would call animal control and have him picked up. Sharon took a picture and we will post some, "FOUND DOG" signs with his picture on it in the area.
OK, we are back from two great days at the beach. We saw dolphins both days. They are always fairly close to shore and sometimes, like yesterday right in the surf line.
My Bounder steps are bent! I wrote a page about how great "Step Savers" are at RV Step Savers They great and make the steps more stable when you step down. There is one BIG problem with them. If you have your stabilizer jacks up and you lower your RV without removing the Step Saver, it gets stuck under the steps. If you were high enough and lower, it may bend your step. It bent mine. Luckily it did not damage they step so it wouldn't close.
Dolphins Near The Surf Line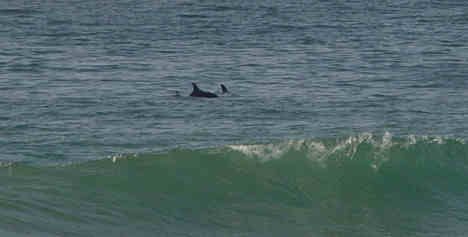 RV Living Home
Honda Generators
Making Money While RVing
Site Feed