Monday, January 17, 2005
Jan 17, '05 MORE LEAKS!
OH NO! More leaks. In the motor home and in our new car. One compartment of the motorhome is sopping wet on the carpeted floor. Things were wet, rusted and moldy. I did not think I had a leak in that compartment and had not worried about it. When I checked it after the rain, the paper towels I placed over things were not wet. That was my "rain gauge" in all my basement compartments. Sharon got into the leaky compartment yesterday and found the wet floor.
The new car we won had about 2 to 3 inches of water in the trunk wheel well. Sharon measure one gallon of water in the bucket she used to empty it out. The carpet was wet, the spare tire cover had mold on the under side. These California rainstorms have not been kind to us leak wise. I will call the dealer today and see about getting it fixed. I assume it is under warranty. Again, we did not notice this since we had not been into the trunk lately.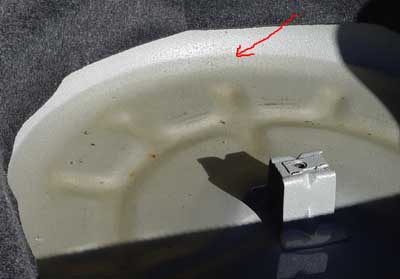 Red arrow shows water level
As for the motorhome, I guess that is up to me. It was not obvious where the water came from, so I will have to do some detective work. Look at any place on the roof on down where a lot of water could get into the compartment.
I keep looking at all the stuff we have in this warehouse and am not sure how we will ever be able to go through it all and get rid of it in a timely manner. This is very frustrating.
I got a fair amount accomplished yesterday. My main direction these days is to learn how to make a living on the internet. I do not want to workamp when we go full timing. I am very impressed with the program we are currently using. If you want to read about it they have a free e-book you can read. It tells you everything you need to know to develop an income on the web. Click here is you would like to read their book on how to do it. You do not need to buy anything, the book tells it all. Free e-book on making money with websites
Of course the problem with this is it takes away from emptying the warehouse and it also takes away from my main source of income which is selling on Ebay. We have made our living on Ebay since October of 1998. Making a living online is not new to us. Making one without selling a product is fairly new.
This full timing thing is somewhat scary. With only Social Security and no retirement it is more difficult to plan exactly what to do.
RV Living Home
Honda Generators
Making Money While RVing
Site Feed