Monday, January 31, 2005
Jan 31, '05 Propane Day
WOW! We are already through the first month of the year. Time sure flies. The older I get the faster time seems to go. SLOW DOWN!
Yesterday I did not get my pictures plugged in, so they are now in yesterday's blog entry.
I am amazed at housing prices. About a year ago our county median house price was $400,000 and change. Now the median how price is over $600,000. How can people afford to buy houses now?
Below is a "castle" at the harbor. It is across the street from where we parked for dinner. I was talking to a guy who is going to tour the house. The owner is asking only $2.2 million, but this guy said they would come down to $1.9 million. The house next two, more of a conventional two story is probably worth about $1 million.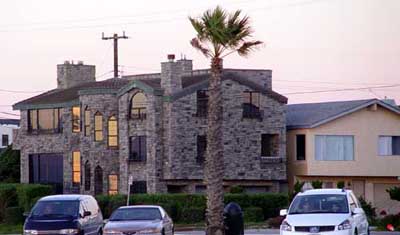 I have to go get propane this morning. My tank light is on empty. Since we use the refrigerator daily and run it on propane, we have to get it today. We get about 15 gallons of propane a month. Last time we bought it, the price was $1.45 a gallon.
Here we are. OK, we had to go out and get propane in the motorhome this morning. Propane was $1.55 today If you take your RV out of your driveway, it is a waste if you do not go somehwhere. Guess where weare. To give you a hint, we have seen a seal, a large pod of dolphins and sea gulls.

Give up? OK, here is another hint. I hear wave crashing asI sit here "talking" to you. Two days in a row day camping. This day was even better than yesterday. We were parked right next to the beach and saw the seal and dolphins, THEN WHOOSH!! to blow of a whale. We saw about 10 whales over about a 4 hour period.Some about 200 yards offshore and others a little farther. What an exciting day.
RV Living Home
Honda Generators
Making Money While RVing
Site Feed