Wednesday, March 23, 2005
Mar 23, '05 Brigantine Irving Johnson Still Grounded
Our time has been spent at the beach the last 3 days. We have been watching the the Irving Johnson coming closer to shore and digging deeper into the sand. Today, the had large 4 inch thick lines run out to a tug boat and tried to pull her out of the sand and get her floating again. The ship is so heavy and stuck that the line snapped and they lost another chance to free her.
It is sad to see such a beautiful ship grounded. The crew are still very emotional and near tears when you talk to them. This ship is their job, their life and it hurt to see her as close to breaking up as she could be. The ocean and heavy surf are unforgiving. Given time they can split apart the biggest ship.
Unluckily for the Irving Johnson, we have had heavy rains which have caused heavy seas. The waves just crash against the ship. She is young and hopefully strong enough to survive until tomorrow morning at high tide when they try to pull her off the beach again.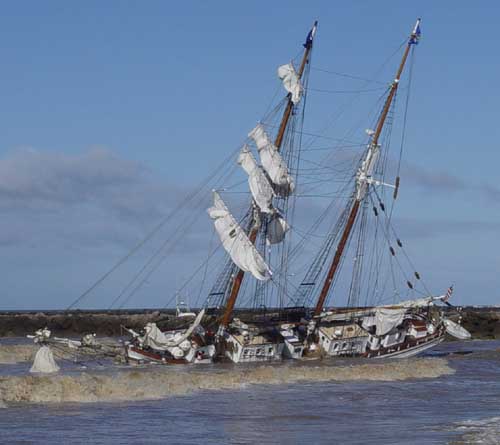 This event has sidetracked me from other work, so there isn't much else to talk about. We will drive over to the harbor at low tide today and see how it looks. The harbor is about a five mile drive from here. It is on the beach where we used to live. Our rented house was about 3/4 of a mile from where the ship is beached. We lived five houses in from the beach
RV Living Home
Honda Generators
Making Money While RVing
Site Feed