Monday, October 10, 2005
Getting Ready To Go Camping
It is only two weeks and two days until the Monster Mash Rally, the one you find in the RV.net Forums. I am getting excited. This time there is not a lot to do to get ready. WELL, get the Wave heater propane plumbing installed. I need to make that a priority or it won't get done and at the last minute I'll be wishing I had time to do it.
Yesterday I was having problems because I lost some of my pictures. They were transferred to my computer and then erased from the camera's memory stick. They did not all transfer to the computer for some reason. This is the first time this ever happened. I had an unerase program, but it was for Windows 98 and I have Windows XP. Luckily I was able to upgrade it for $25 instead of paying the full $49 price tag.
The program I use to un-erase files is, Recover4All and I got it from http://www.recover4all.com. If you erase a file from your computer and empty your recycle bin, it is still possible to recover the erased file. This also applies to floppy disks AND memory sticks. I connected my camera to the computer and ran Recover4All on the memory stick in the camera. It recognized all the erased files on the stick and allowed me to recover my lost pictures.
Here is what my DIY propane fireplace looks like when it is working.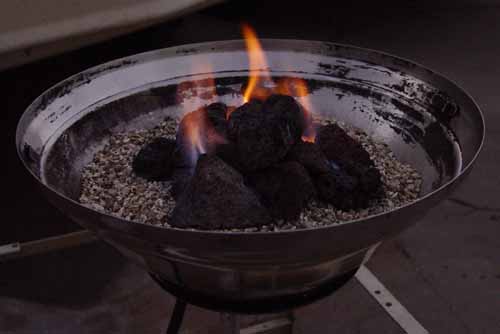 I still need to make the stand so it will stand alone. I need to get rid of the pressure regulator and get a valve instead. I don't get enough propane to the fire. There is an air gap at the bottom I need to fill. It was to get air to the BBQ, but since it is not long a BBQ, I don't need the air holes. I need to dump everything out and finish cleaning the inside.
RV Living Home
Honda Generators
Making Money While RVing
Site Feed