Friday, March 24, 2006
Missing In Action
Yesterday I go so tied up in what I was doing that I completely forgot you. I went missing in action. That is is first day in over a year that I did not write an entry in the blog. I was so excited about a program I bought for internet marketing, I got involved with it. Then just after lunch, I went shopping with Sharon and that closed my mind to blogging for the day.
I keep seeing the light at the end of the tunnel. It's not the train this time and my mind just goes six ways to Sunday (old saying). I get excited about the things we are doing and lose track of what is going on other than the immediate action I am involve in.
Our weather forecast is still partly cloudy for the weekend, but Sharon said something about wind when she looked at the weather site. Our plan it to camp at the campground that is right on the beach, but if it looks like wind, I think we will pick one of the others that is across the street from the beach and in the trees.
Blowing sand at the beach is pretty to watch, but camping in it would not be as much fun. Poky does not like it either. Being a short dog he is down at the level where most of the sand blows. He gets a face full.
I dumped out tanks last night using our Sewer Solution. Then I back flushed the tanks using a Flush King. I really like the Flush King, but only use it about once every four times I dump. This device hooks up to the sewer hose and has a gate valve in it just like the pull valve you use to empty your tanks. It also has a water hose connection.
What the Flush King does is back fill each tank with water and then lets you dump the water back out by pulling its valve. I flush about 3 times with just a little water in the tank to get sediments out and then fill about 1/2 to 3/4 with fresh water and dump one last time. Camping World carries them, so click the picture or link to see more details.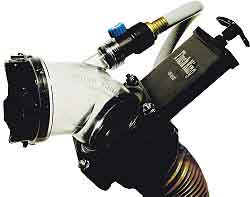 Flush King
RV Living Home
Honda Generators
Making Money While RVing
Site Feed