Tuesday, October 25, 2005
I Am Missing The Mountains
I certainly miss being up in the pine trees and mountains. Shaver Lake was a great place. Doug, who picked Shaver Lake, couldn't have picked a much nicer location for a rally. Even the morning chill was refreshing. I think that the mountains in the fall before snow begins falling must be one of the most beautiful places to camp.
Today I am back to the normal routing, but going a little slower. I have catching up to do in various things that pile up when you leave work for a few days.
Our Bounder ran very well for the entire trip. I haven't checked mileage, but I am guessing it is still closer to 6 MPG than 4 MPG. There are things I need to look into. As I said before, our hot water heater is now manual light only. I am almost positive I need to replace the electronic module. My converter is bad or I have a blow fuse somewhere. It puts out 12 volts to light the coach lights, but it does not charge the battery or run the furnace and water pump.
The current problems are more of a minor nature and I am not in a hurry to fix them. Yes, I want the repairs done, but in my own sweet time.
It is amazing to see trees growing in rocks or boulders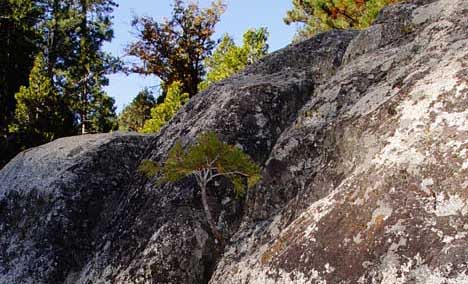 RV Living Home
Honda Generators
Making Money While RVing
Site Feed