Wednesday, May 04, 2005
We Saw The Space Shuttle And A VW Bus
We won tickets to Universal Studios on our local country radio station, so yesterday we went and picked them up. Why wastes a trip out, so we drove on up to the beach. When we arrived there was a squirrel outside the window. Poky was already exited about being at the beach, the squirrel just made his day.
Poky. The rear bandages are where we had his dew claws removed.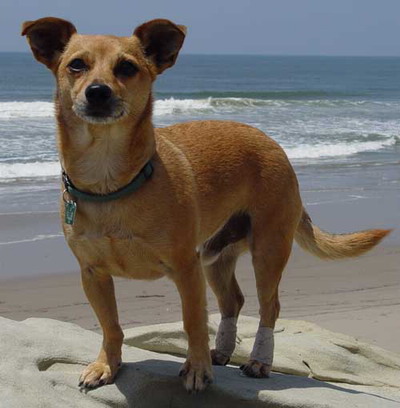 As we walked up the beach a woman was holding camera up taking pictures. DOLPHINS. It is normal for us to see dolphins on almost every trip to the beach. This time was different. One dolphin had his body straight up in the water about 1/3 out of the water. I had never seen this before.
It turned out the woman, whose husband was with her was from England. They were spending a 3 months in Californina tent camping.
As we walked up the beach we saw a VW bus parked along the rocks. It was a 1959 "van conversion". The owner is a young man who has a glass blowing work shop inside. The work he showed us was solid pieces like a tiny multicolored vase and round "coins" of colored glass with multiple patterns in them. He lives and works out of the bus. His bed is up in the VW portion.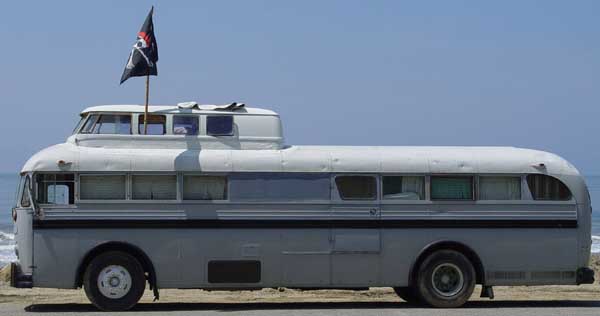 The bus is a 1959 Crown. It is still pretty much gutted inside. There is a large tub sunk into the floor in the very rear. The tub is like a large oval galvanized horse water trough. He has a ceramic toilet and just put in an old 1959 white enameled 4 burner stove with oven.
On the way home we saw the Space Shuttle driving down the road. That is a startling site and a real head turner. If you would like to learn more about this "craft", check it out at http://www.spaceshuttlecafe.com Click on history. It was an RV at one time and before that it was a real airplane.
I pulled ahead a ways and stopped and got a picture of the Shuttle.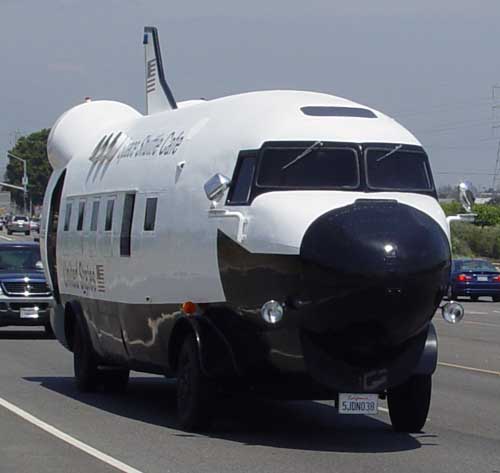 RV Living Home
Honda Generators
Making Money While RVing
Site Feed