Sunday, November 13, 2005
RVing In California
I think RVing in California is good and at the same time not so good. Even in November there are still a lot of campgrounds you need reservations for. Great places to camp, but full campgrounds which make it hard to camp. Some is worse. It is hard to get a campsite without reservations on any day of the week. OK, maybe this isn't true for all campgrounds, but all of the ones we camp at along the coast.
When I read the RV.net forum and full timers say they always find a campsite when the stop early in the afternoon, I envious. I guess all areas are not as congested with campers as we are in Southern California. As crowed as coastal campgrounds get on the weekends, some State campgrounds close for the season from October through March. I really cannot understand that logic.
OK, I am working on the free Ebay lessons. Well, maybe not WORKING on them, but they are on the burner. I will try to get them up this weekend. No promises. Each time I say I am going to do something and put it in writing, I find that it doesn't always happen. I need to quit saying, "I will" and not say anything until I can say, "I did".
All of what I do is now with the intent of going full timing in a year. I said two years a year ago. Now it is a year later and we are no closer to going than when I first stated we wanted to go full timing. I really need to get a better plan of activities needed to accomplish this goal. If I don't I will still be saying 2 years to go in two years. Not a good plan.
The picture below was shot a just the right moment one day we were at the beach. There is a train track on the other side of the road here.
A new meaning for, "Diesel Pusher" Our Bounder At The Beach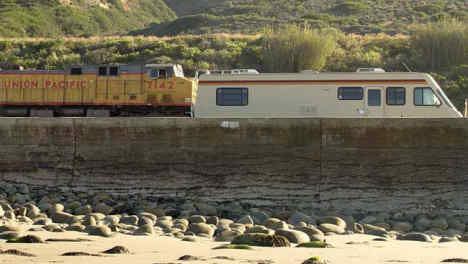 RV Living Home
Honda Generators
Making Money While RVing
Site Feed