Monday, April 11, 2005
The Rally Is Over And I Am Ready To Go Again
We are home and sorry another rally has ended. Rallies are one of the best get aways you can have. A weekend of nothing to do but relax and socialize. A really fantastic way to get away from it all and enjoy some time off from you regular routine.
Every time we go on a rally my back stops hurting. I think I need to go on more rallies. I woke up this morning with a twinge of pain in the back. This is interesting. I wonder if it is in my head rather than in my back. They say a lot of our problems are psychosomatic
Would like a starter RV? Do you have older children you think should get into RVing but they can not afford a large rig. Faith, one of our ralliers came in the cutest trailer, she named "Houdini" It is a, "Fun Finder Shadow Cruiser" (A Doubletree Company). The unit is only 13 feet long but it is very well laid out and spacious inside. It has a toilet and shower. There are two beds. This is self contained in a very small and lightweight package.
Shadow Cruisers can be seen online at Shadow Cruiseres
Faith and "Houdini"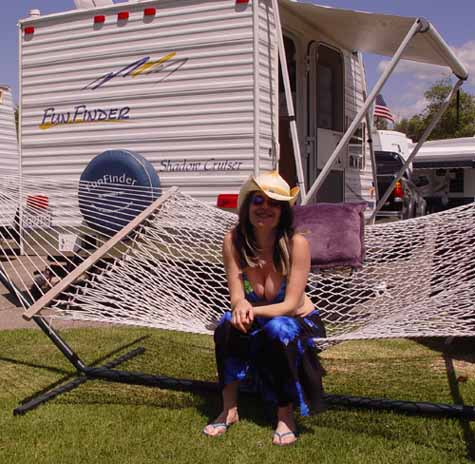 Of course all of the food was excellent. From the chili to to the tri-tip. There is always so much food and such a variety to choose from. Dinner was early evening just before it got too cool. Later in the evening a jacket felt good, even by the camp fire.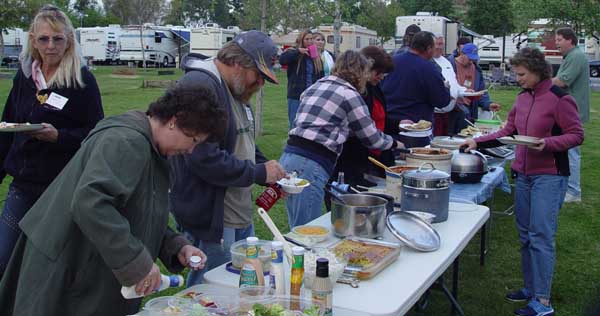 RV Living Home
Honda Generators
Making Money While RVing
Site Feed