Wednesday, August 10, 2005
Vacation Is Over
Well, maybe we weren't on vacation, but we took off so many days you'd think we were on vacation. Time to get back to work. Sharon and I sure did enjoy all the days off and all the interesting things we saw, concerts we attended and cruising the harbor in our boat.
The batteries charged up in my "new" used glider airplane. I am trying to figure out a place to fly it. We live in what are called the coastal plains. It is flat here. I need a small hill with open space below to learn how to fly this. All the places we go by the ocean or by a hill, but also below the hill is a road and the water. I can just see my first flight ending up under the wheels of a truck or ditching in the ocean, never to be seen again. Any other close hill is up against farm land and I don't think the farmers want me jumping around in their strawberries.
I told you I got the glider at a garage sale. I also spent $1 and bought another set of plastic covered dumbbell weights. If you recall I was using 7 pound weights. These are 10 pound weights. Let me tell you, 3 little pounds are a lot of weight when you are lifting them. Compared to "real" weight lifting this isn't much weight, but if you don't lift weights, let me tell you that 5 or 7 or 10 pounds can give you a real workout.
I added a couple pictures yesterday so if you are used to my once a day posting, you may have missed them. To give you an idea of how many pictures we take, we have 368 pictures left after deleting a lot of them. That is for the fair and tall ship events over 4 days of shooting. I sure am thankful for digital cameras. That would have cost a lot for film and developing. We regularly take a lot of pictures. I really should delete a lot more than I do. Ruthless culling should be my moto, but it isn't. Maybe I should start that with these pictures.
OK, Poky was dancing and wanted his morning walk. I uploaded the blog and Sharon and I walked Poky.
The fair helped me gain back 2 pounds. I guess morning weight can fluctuate 2 pounds, but I'm sure this was the chocolate dipped ice cream cone, mini donuts and other junk food we had. I am not really on a diet, just eating less normally. I don't worry about times like this when I might gain a pound or two. I missed a couple days on the exercise bike also. I am right back on it for my 30 minutes today.
Here is our Porta-Bote. I took along our GPS and we went 14 miles in the harbor yesterday. The GPS also gives speed. We hit a top speed of 10.2 miles per hour, but it could keep steady at 8.5 to 9 MPH depending on sea conditions. We have a Nissan 4 stroke, 4 HP motor on the boat.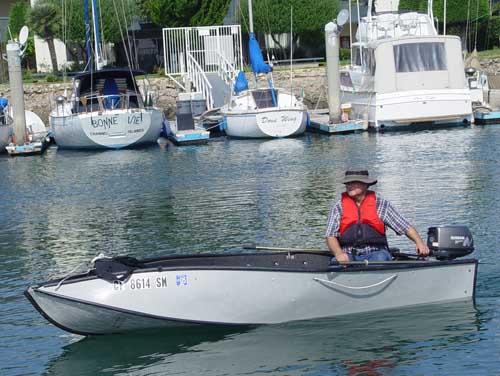 Bob In Our Porta-Bote in Channel Islands yacht harbor, Oxnard, Calif
Did I say, "vacation is over"? Well, not quite. We still will take off one more day this week. Friday is our 39th wedding anniversary. We will be going to the Long Beach, California Aquarium. It is a fascinating place. They even have a jelly fish display that is amazing.
WOW! 39 years and we still like each other. We are still in love. We are best friends. We love being together all day everyday. It is a great feeling to be making plans with someone you love. Can you imagine traveling to wonderful place with your best friend.
RV Living Home
Honda Generators
Making Money While RVing
Site Feed