Sunday, March 27, 2005
Mar 27, 05 I Tried To Go Back To Work, BUT
Back to work? Did I say that? Well the pull is too strong. My heart yearns to.....OK, stop that. BUT, I did want to see more of the adventure of the Irving Johnson. I got a call yesterday morning that she had left Channel Islands Harbor in Oxnard, California. I gathered up my camera, my wife and my dog and headed out to see her moved to Ventura Harbor.
I missed her leaving Oxnard, but saw her out at sea being towed by a single tug and with a Coast Guard escort boat. My new telephoto lens blurred the pictures out at sea, but as she approached the harbor Sharon shot the photo below. You see two tugs in that picture. The tug behind is the Ventura Harbor tug that went out to meet the tow tug and pilot them into the harbor. There was only one tug out at sea.
Approaching Ventura Harbor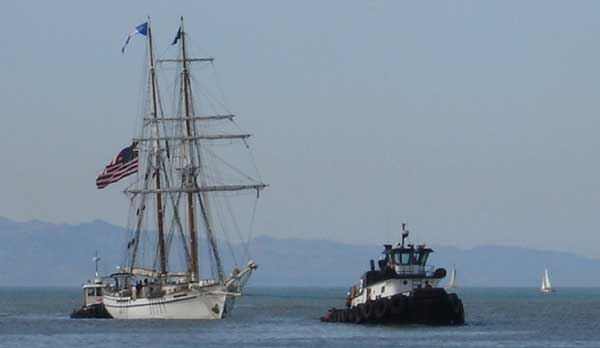 When the tugs had the ship safely in the harbor they reversed her direction and brought her to the dock stern first.
Approaching the fuel dock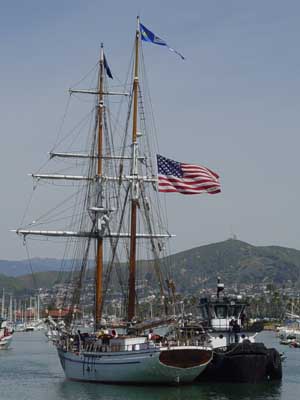 Yesterday was the happiest I have seen the ship's captain since this whole thing began. I saw him smile almost anywhere he walked onboard the ship. Captain Steve Peckham is the regular captain of this ship. He was starting his vacation when he heard that she had gone aground. He was not onboard when she grounded. He and his wife stopped their vacation plans and were very quickly at the scene.
One Happy Captain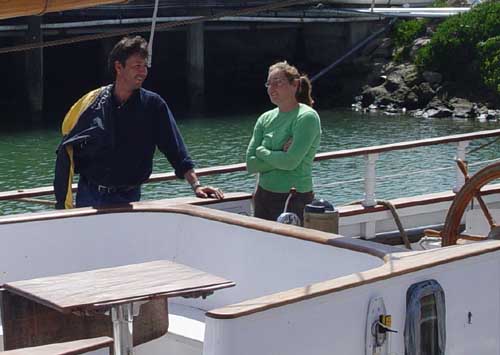 On the motorhome front --- I got an e-mail that told me to check one of the relays on the top of my engine before digging deeper into my starting problem. I will do that first since it is the easiest place to get to. I just do not seem to find much time to do things things lately.
I had hoped to take a day trip to the beach before the next rally, but with all the time we took off for the SAL rally and then the time off for the grounding of the Irving Johnson, I have lost a lot of time in the last month. I need to use my time working up until the rally.
WELL, I do hear the Irving Johnson will be hoisted out of the water to check her for damage before they return her to San Pedro, her home port. My understanding is they will do most of the repair in San Pedro where she was built. San Pedro is part of the Los Angeles Harbor area. Of course I will not go over to watch that.........will I?
RV Living Home
Honda Generators
Making Money While RVing
Site Feed