Tuesday, January 18, 2005
Jan 18, '05 Going To Tehachapi
For the last 8 months or so I have been telling myself, Sharon and people in forums on the internet that I plan on going full-timing in "one year". This year, I arbitrarily set a date of July 1 to go full-timing. It is NOT going to happen. There is no way we can dump this warehouse, make a living and prepare to go full timing in such a short time. Sharon and I are discussing this and probably will be for a while. I have felt a lot of pressure and stress over this. I think we will be talking about 2 years from now which would make it on or about my 64th birthday.
In the mean time we can try to accelerate out disposal of "stuff" in a more relaxed manner. Just saying this make me feel a bit of relief and lowers stress level. As we actually start dumping literally tons of stuff, then we can adjust the time line more accurately.
Today we are heading up to Tehachapi, California in the mountains north of Mojave and south of Bakersfield. My son, his wife and our 7 month old grandbaby girl live in the community of Bear Valley Springs. This is where we went on our very first motorhome trip. Bear Valley Springs is a gated community with about 100 miles of roads. There is only one road in and out. This is a huge place. They have two RV campgrounds there. Dry camping was only $5 a night, but you have to have a resident of the community sponsor your stay. No, we are not taking the motorhome this trip. Just a short visit.
Even Poky, our little dog liks motorhome camping
.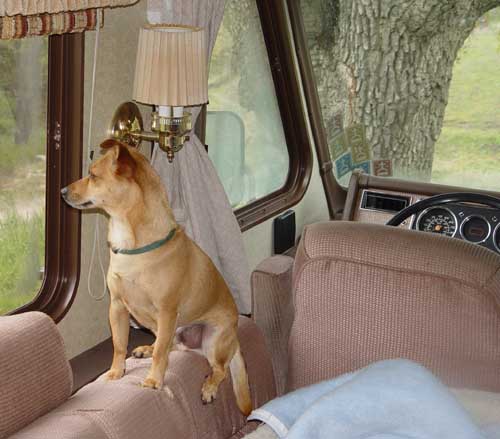 Have I told you that we eat dinner in the motorhome every night? In our preparation to go full timing we decided that this would be a good idea. Sharon has to stove, oven and refrigerator, so it is an easy thing to do. We have a candle light dinner every night also. Usually we light 3 candles on the table when we sit down to eat. We have overhead lights on also, so it is not strictly candle light. We extinguish the candles when dinner is over. We never leave unattended burning candles on the table.
RV Living Home
Honda Generators
Making Money While RVing
Site Feed