Saturday, October 29, 2005
Hand Crank LED Flash Lights -- No Batteries!
While at Shaver Lake one of the prizes given out was crank powered LED flash lights that require no batteries. Think they we were told that they were $20 for two at Costco. We were at Walgreens getting our flu shots and found one for $8. These are really great flashlights. You crank them for one minute and they last for up to one hour. The one I bought to two brightness levels, high with 3 LEDs on and low with only 1 LED on. I am really impressed by this light. I even put a page up on RV Living Magazine at Hand Crank LED Flash Lights. I also found a lot of them on Ebay, so I put an their listing on that page too.
If you were at Shaver Lake, you may have seen me using a folding aluminum hand truck. That thing only weighs 9 1/2 pounds, folds flat to about 2 inches thick and stores very easily. You guessed it another page on the site. Folding Hand Trucks. I sure saved my back hauling things to the group campfire area. I found mine at Harbor Freight, but again, I see them on Ebay.
This morning Sharon and I are going down by the Los Angeles airport to the TRW HAM Radio Club sponsored electronic swap meet. If is geared only to HAM radio equipment, test equipment, computers, software and anything else electronic. NO household stuff allowed if is is not electronic related. If you ever hear about a "HAM-fest" in your area, check it out. There are a lot of interesting things there.
A few years back Sharon and I made part of our living selling at swap meets. We had 3 HAM radio club sponsored meets we would sell at each month. They are always on Saturday. Then on Sunday's we would sell at a regular swap meet just a couple miles from out house. We quit selling at swap meets fairly soon after we discovered selling on Ebay. Ebay was a lot easier and we made more money.
I got side tracked. I was walking Poky before we left and found a wallet. No money, but all credit cards and ID. It was from Arizona and I found it in the gutter of the driveway into a packing house, truck parking lot. I checked with drivers and the office and it didn't belong to anyone. I DO NOT turn valuables into an office. I either keep them to find the owner or turn them over to the police/sheriff. I know I am honest, I'm not sure about the employees in some business.
We left our phone number at the packing house and drove down to Los Angeles. I got a few things at the swap meet. We got a call from the driver and told him we'd be back about noon. This is a busy packing house and driver's are there for hours and sometimes longer. He was happy to get his wallet. He said it didn't have money in it, so I was the first to find it. He offered me $20, but I declined it. Good deeds are a reward in themselves.
LED Crank Flash Lights — Ours Lit Up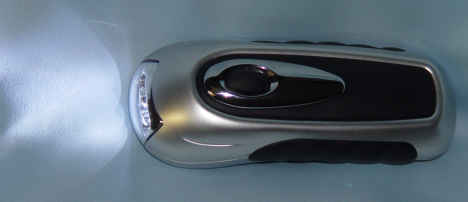 RV Living Home
Honda Generators
Making Money While RVing
Site Feed