Tuesday, March 22, 2005
Mar 22, '05 Tall Ship Aground
Late yesterday afternoon we heard on the radio that a tall ship had run aground in our local harbor, Channel Islands Harbor. We drove over and saw this:
Irving Johnson (named after a sailor who taught youth to sail) Ship's Internet Home Page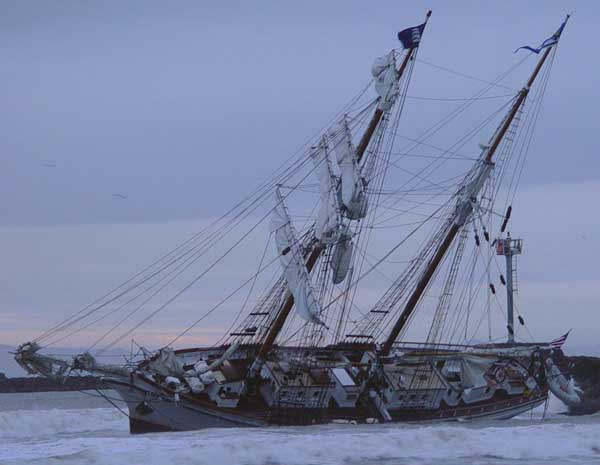 The ship hit an uncharted sandbar entering the harbor. Recent storms has shifted a lot of sand and the bar formed and the ship struck it. All 20 people aboard were saved. The ship will hopefully be pulled to safety at the next high tide.
This ship is a youth training ship and had 10 students and 10 crew onboard when it went aground. She is 90 feet long and 70 feet tall. She is 164 tons displacement. Her keel was laid in 1998 and she was launched in 2003. Cost of the ship was $4.5 million.
Her crew were mainly young adults. The captain was possible mid-thirties. This happened yesterday between noon and 3 p.m. When we talked to crew members this morning they still had tears in their eyes over the loss. Men and women.
Current news story ABC news online There is also video in the article if you want to see more.
RV Living Home
Honda Generators
Making Money While RVing
Site Feed