Saturday, February 05, 2005
Feb 5, '05 Whale Watch Trip Was Fun
The good news is that the birthday whale watch trip was great. The sea was calm. It was comfortable wearing a coat, cap and gloves while standing at the bow of the boat for 80% of the trip. The boat is moving at 20-25 miles per hour so it is breezy standing there.
The Birthday Girl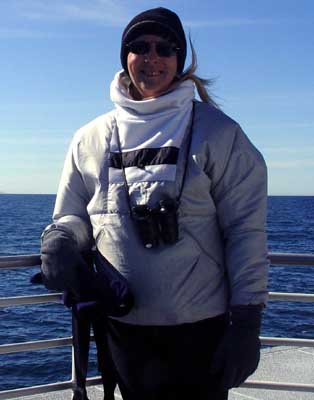 The offshore islands are green from all the recent rains we had. They are beautiful to cruise by. The trip was fun and relaxing. There is not much to think about while on a boat away from computers and traffic and the rest of your life.
The Islands Are Beautiful

The Cliffs Are Gorgeous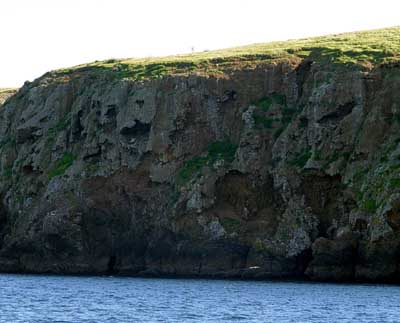 Of course, the bad news. We did not see one whale. The morning cruise saw four within the first 15 minutes of arriving at the islands. We were not so lucky. A three hour whale watch trip is not a guarantee to see whales. It is a three hour boat ride to the prime offshore area where you will find whales if you stay there long enough.
Wake Watching Is Relaxing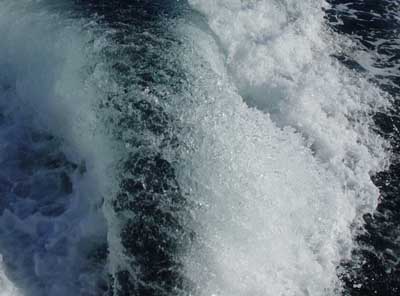 Yesterday was a slow day all around. We only saw two seals. Usually we have seen many more. On most trips we see at least 100 dolphins. This trip we did not even see one. So, as an animal viewing trip we got skunked. As a wonderful, relaxing boat trip out on the ocean, it was fantastic. Sharon and I plan on another in the fairly near future. We do not know when, but it will be during this southward migration of the gray whales.
We Did See Some Pelicans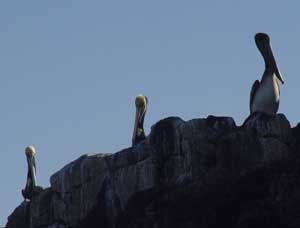 It is just under two weeks until we head out in the motorhome to the rally at San Antonio Lake. There we will meet up with RVing friends we have met on the internet. This will be our second rally to Lake San Antonio. This one includes a bald eagle cruise on the lake. It is the season they are there. That will be exciting.
RV Living Home
Honda Generators
Making Money While RVing
Site Feed