Sunday, November 06, 2005
Bent RV Steps To Repair
Well, all the Fear Factor excitement is over. We went camping. Last night we went out to dinner. I guess last week was full of everything, but work. Speaking of work, I need to fix that bottom step I bent while camping. I should also put a warning note on my, "Step Save" web page so others are aware of this potential problem.
Luckily? I damaged the steps once before, so it will be easy to remove the bottom step. It is now held on by bolts and nuts. I won't have to grind off any rivets. If this was the first time I did this, it wouldn't be so bad, but since I have done it once or twice before, "shame on me". I will have a check list for moving before we go out again. I will also have a sign I put on the leveler controls that reminds me to check under the motorhome before I lower the rig. Other things than the Step Saver could be underneath.
Our next planned trip will be Tuesday through Friday for Thanksgiving at Thornhill Broom, the same beach we camped at this past week. We will be meeting another couple there and should have an enjoyable Holiday with them.
Here is some information for Veterans. The Southern California theme park, "Knott's Berry Farm" admits a veteran and a guest for FREE from November 6th through November 24th. They do this to honor Veterans contributions to this country. Check it out at Knott's Berry Farm Information
Not only is Knott's Berry Farm honoring Veterans, they are also honoring Fire & Police Personnel with the same FREE offer. For these heroic people, the dates are from November 24th through December 18. Again, see the Knott's Berry Farm link above for more details.
Another Beautiful Sunset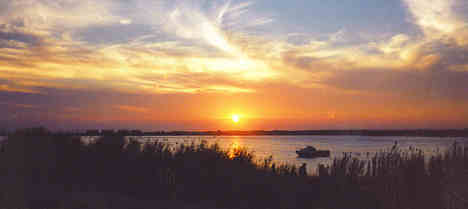 RV Living Home
Honda Generators
Making Money While RVing
Site Feed