Saturday, January 15, 2005
Jan 15, '05 Yesterday Was Fun
Yesterday, went just as planned. We went to Camping World and got a few things including the ladder I showed at the bottom of our RV window caulking page. I have not opened it up yet, so no pictures. You can not get out of Camping World very cheaply. Here is a picture of me holding the ladder at Camping World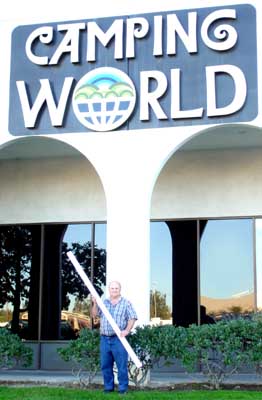 After Camping World we went to the Imax theater and saw "Polar Express". That is really an impressive 3D movie. The animation makes the characters look real. You have to look twice and then look again to be sure they are not. The falling snow looks as if it is landing right in front of your face. A train stopping within arms reach is exciting.
When the movie was over we had lunch at Johnny Rockets. Link to Johnny Rockets It is a 1950's looking cafe that even has the flip card table top juke box on each table, just like when I was young. The oldies songs are all only five cents to play. That is our second time eating in a Johnny Rockets. The food is good and cooked when you order. Burgers and fries, shakes and malts. I had a chicken club sandwich and Sharon had a grilled onion, mushroom and cheese burger.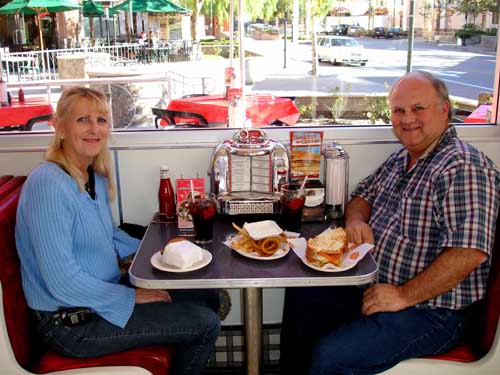 I suggested we drive up the canyon where we used to live. We lived 12 miles up the canyon, but it was closed due to flood damage about 3 miles up. I am certainly glad we no longer lived there. We were on the wrong side of the stream as were the people in the picture below. Once during the last El Nino, we were stuck on our side for seven days when we could not cross the stream. The stream is a dry bed in the summer.
Just a little below the where the picture was taken is an SUV buried in the mud and debris of the stream bed. It was too muddy to walk down and get a picture. Where the picture was taken, the "stream" was probably more like a raging river during the storm. One of the workers we talked to said it could be months before the road is opens. That means people up the canyon will drive a couple hours to work instead of half an hour.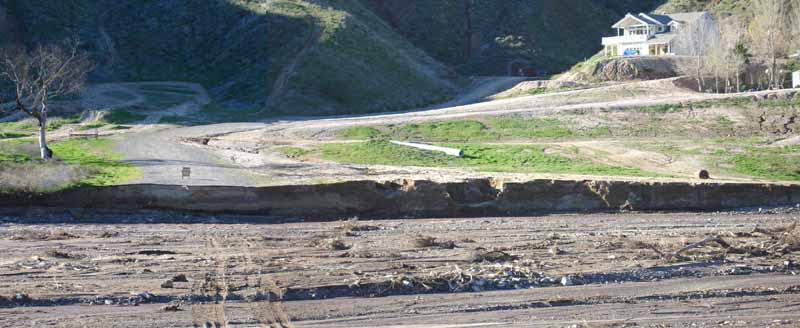 RV Living Home
Honda Generators
Making Money While RVing
Site Feed