Thursday, March 17, 2005
Happy Saint Patrick's Day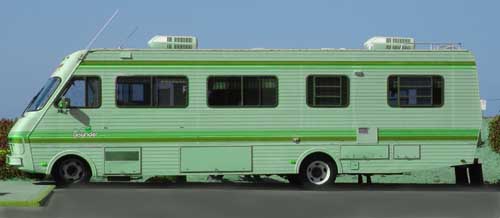 Mar 17, '05 Bug Cleaning Day
It is another beautiful morning here. The sun is shining, but we have high clouds overhead. I do not think they mean rain.
Today I need to go out and get the bugs off of the front of the motorhome. The rally trip sure put a lot of them on there. I think I will use our battery powered "ScumBuster" to do the work.
Well, I got ambitious and the first article with a guest write up is online now. Actually it was up on the 9th, but I was getting ready to go to the rally and did not post about it. To see how we incorporate your article onto our site check out Camping Lanterns
To submit an article, just click this link and e-mail it to RV Living We want a typed article with no HTML or coding. We will do all of the formatting. You can put a link to your site if you have one. We may not publish all articles we receive depending on what we already have started or other concerns. Contact us first and let us know the type of article.
Last night I put up another article in the magazine. This time it is on water conservation in your RV. Conserving Water
RV Living Home
Honda Generators
Making Money While RVing
Site Feed