Wednesday, November 09, 2005
Selling On Ebay
As you know, I want to generate an ongoing income that will allow us to go full timing. Part of that income is from advertising on our websites and part is from eBay. I have written about making money on eBay in RV LIVING MAGAZINE Our Ebay Articles. There are three articles so far about selling on Ebay.
I just purchased a course for selling on Ebay. Sharon and I have made our living on Ebay since October of 1998. In spite of all that knowledge, I had been doing one thing and not learning more. Big mistake! There is so much I don't know it isn't funny and it probably has cost me a lot of money. Money lost because I got less for an item than I should have. Money lost because I listed things wrong. I am learning more now than I knew in the past. If you are serious about making some extra money or even a full time living selling on Ebay, check out the course I bought at Ebay Training Course
Some time today or tomorrow, I will put a couple free Ebay guides on this site so you can see some ideas at no cost. These are not as comprehensive as the one be bought, but they are free.
Two more weekends and we will be camping again. Tuesday through Friday. We are going to Thornhill Broom again, this time for Thanksgiving with another RVing couple we met on RV.net. This should be a fun trip. The beach is always great, and camping there with friends makes it even better.
More camping is good. I am glad we do not live where the weather dictates the camping season. Camping 12 months a year is nice. It also means you are getting more of you money's worth from your RV investment.
The picture below is one of 5 manuals that comes in the course we are studying. There are also 8 CDs. Sharon and I are both reading the book at the same time. Either I'm a faster reader, or I think more things are worth going back over.
Ebay Training Course
Red=Bob's Bookmarks, blue= Sharon's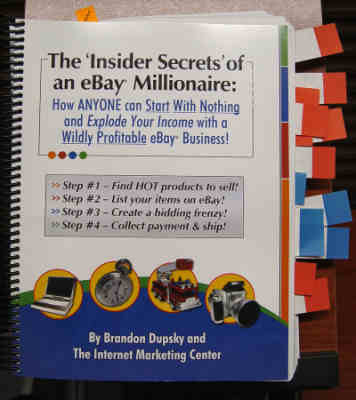 RV Living Home
Honda Generators
Making Money While RVing
Site Feed