Saturday, November 19, 2005
Early Thanksgiving Dinner
Since the couple we are going to dinner with, camping at the beach, want chicken for Thanksgiving, Sharon baked an early turkey dinner yesterday. A 9 pound 6 ounce turkey fits very nicely in the motorhome oven. It came out just right. With a gas stove and oven, a RV is just like home. You can do everything just like you normally would. Even the microwave oven makes it more like being home.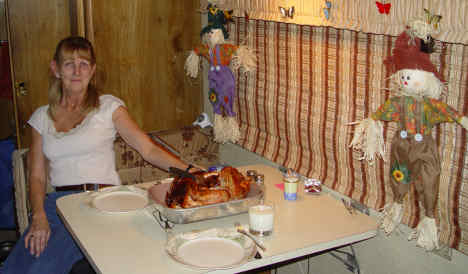 Dinner Is Almost Ready
Fire season has begun in Southern California. We get winds from the inland desert areas that are called "Santa Anna Winds". We get these winds every fall and every fall our fire season begins. The winds cause many of the fires when they blow down power lines. A car fire along the freeway can spark a huge fire. Of course, there are always some arson fires started during these winds.
We have a large 4000-acre fire going. Yesterday drove over to the area, but not up close. Along the Venture "river" which is move like a stream, sky cranes were sucking up water to fight the fires. Those huge heavy lift helicopters have two large tanks strapped into the cargo area. As of this morning, no homes have been lost. Containment is estimated late tomorrow or Monday.
We drove down to the beach and there was a standard size helicopter, similar looking to the military Huey helicopters. It had a 500-gallon bucket hanging below it. It would drop the bucket into the ocean, fill it and then take off to drop the water on the fire. There were a couple helicopters getting water from the ocean. Other helicopters were getting water at other places.
The Ventura Fairground, at the beach is the staging are for fire departments. We saw a lot of fire crews coming in. Their trucks were from cities all over Southern California. When a wildfire gets going, fire departments from many cities send their own fire fighters to help.
Sky Crane Refilling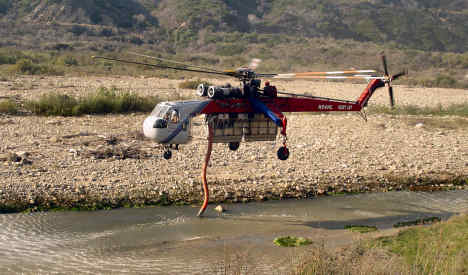 RV Living Home
Honda Generators
Making Money While RVing
Site Feed