Tuesday, February 14, 2006
Happy Valentine's Day
Sharon and I got married this morning. HAPPY VALENTINE'S DAY! The ceremony was performed by Rev Cowsill and Pastor Parker. Of course we get married every Valentine's Day in the parking lot of the local country music radio station. We are married by the morning DJs Jon and Charlye. Jon, the man in the pair is usually dressed in a wedding gown to perform the ceremony. Today he was dressed in a RED evening gown (?). Charlye looked stunning in her dress.
Our Wedding — 2006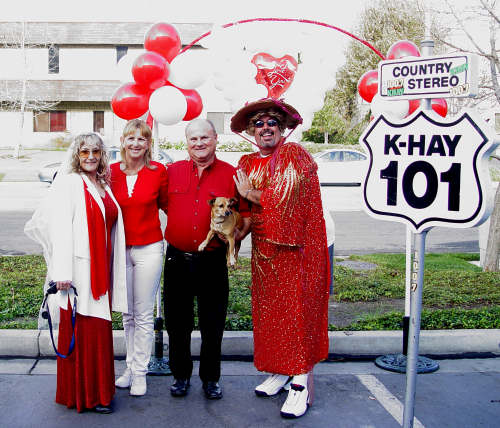 KABOOM!!! Last night between 10:45 and 11:00 we were watching the Olympics (yes, we have turned the TV on again for this event) when our building was rocked by a tremendous explosion. Sharon has a scanner and turned it on immediately. 911 calls were being reported from all over. HOWEVER, I one said, "Wooley and Rose". I went out to the street and saw flames about six blocks away at Wooley and Rose.
They don't know why yet, but an oil storage facility oil tank blew up and caught fire. The paper says the tank was 49,000 gallons. It exploded, caught fire and blew the lid 100 feet into a strawberry field. I am only guessing but the tank looked about 20 feet high and about 20 feet across. This was a big tank, but not one of huge storage tanks. Only one person was hurt with 2nd degree burns and cuts on the head.
Tonight I will empty my Bounder tanks and check air pressure in all the tires. Luckily our tire pressure is always up, so it is just a formality. I always check my tire pressure, especially when it is a longer trip.
RV Living Home
Honda Generators
Making Money While RVing
Site Feed