Monday, May 23, 2005
Going To The San Diego Zoo Today
Today we are headed for the San Diego Zoo. Sharon had the choice of the Wild Animal Park or the zoo and she chose the zoo because she wants to see the pandas and koalas. I think I prefer going to the zoo this time too.
This will be the end of a really nice rally weekend. Sunday night only two rigs stayed the extra night, us and one other. We sat and chatted for a while over strawberry marqueritas they fixed, then headed for "home" to get the Bounder ready to head out about 8:15 today.
Here is the Bounder when we walked to the park directly behind us. The harbor is about 100 yards or so from the back end of us in this picture.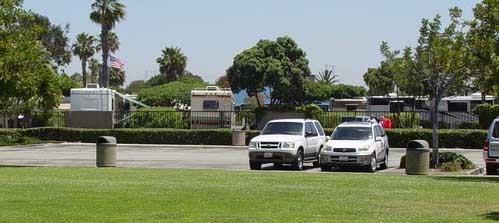 The rally was great, but the RV park is not really my type of "camping". It is very sterile. It has paved roads, cement walkways and cement pads to park on. They do not allow campfires. Dogs, keep off the grass. It is pretty for a mobile home park, but it definitely is not a campground. The pool and spa were nice, but I didn't use the exercise room or take advantage of the free coffee in the office in the morning. We didn't do water aerobics in the morning to the boombox playing the exercise. routine. Yes, I would recommend it for someone coming to the city and wanting a $50 a night safe place to stay. It is a nice place and well kept and clean. It is just not my kind of camping.

We have not been to this zoo for about 25 years. We just do not get down to the San Diego area very often.
OH, did I tell you we can see Mexico from the campground. Yes, the hills above Tiajuana are visible about 10 or less miles south from here. We are not planning of a quick trip across the border.
RV Living Home
Honda Generators
Making Money While RVing
Site Feed