Sunday, May 08, 2005
What A Day At The Beach -- Happy Mother's Day
As I told you yesterday, we could not get a campsite. In southern California it is very hard to get a coastal campsite on Friday and Saturday night. They start taking reservations 7 months in advance. Special weekends are the worst. Holiday weekend and ones like Mother's Day increase the camping load.
I think a lot of people reserve spaces even if they do not know if they will be camping. When we checked the campground at noon on Saturday they had 8 open spaces, all reserved. I almost drove back to the campground at about 8:30 to see if those were still open. Even if they were, they are reserved and held for the people who reserved them.
So you think our day was ruined. FAR FROM IT! This was a fantastic trip. We day camped in one spot right next to the ocean. It was rocky and the rocks rumble as they move with every wave. These are big rocks, think three time the size of your head and head size rocks being moved by the tide.
Of Course there were sea gulls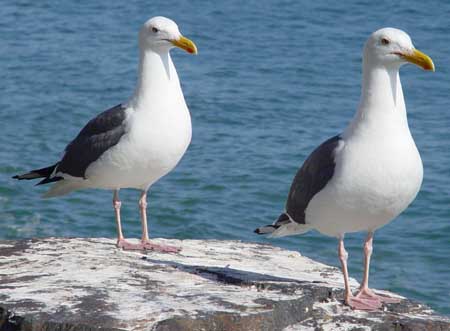 We saw about a dozen dolphins going south in the morning. It is seldom that we go to the beach and do not see dolphins close to shore. In the late afternoon the real dolphin show began. There was a large pod of them right out in front of us playing, leaping out of the water and surfing the waves. You could see them inside the wave as it was about to break. We even saw a baby leap completely out of the water. Look at the next picture, you can see three of them in the wave.
Look closely. They are in the center at the top of the wave heading left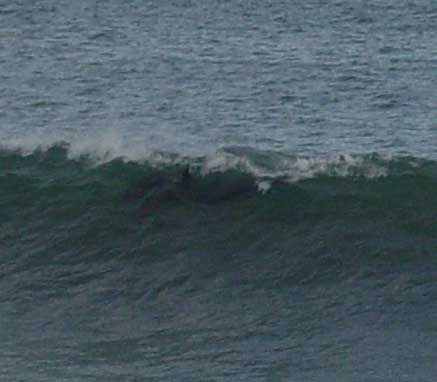 This went on for quite a few minutes. It was very exciting to see. AND if as if the dolphins and a day at the beach were not enough, we saw another whale heading north escorted by dolphins again. I think I saw at least 2 whales and possible three come up. I walked up farther up to take pictures, but they are fast and my digital camera response is slow so I did not get the picture when I thought I saw more than one.
Part of the fun of the dolphin and whale show was that we shared it with Gina, a young woman who recently moved to Los Angeles from Boston. She was thrilled to see the dolphins and just blown away by the whale. Since I had my laptop with us, I burned her a CD with all the pictures on it.
See the mist coming from its blow hole


As you can tell we had an excellent day. If might have been nicer if we could have camped, but if we had, we would have missed the dolphin show and the whale. I think the show was better than camping. It was very exciting and fun to see.
RV Living Home
Honda Generators
Making Money While RVing
Site Feed