Saturday, February 12, 2005
Feb 12, '05 Our New Diesel Pusher
It's like they say in the song, "Hey 98.6 it's good to have you back again"! Hey 98.6 Lyrics That is right. I do not have a temperature this morning. On the road to recovery. Still stuffy and a little cough.
This is good, now I can look forward to the RV rally next weekend. Sharon and I are really exited about that get away. First the rally where you meet wonderful new people and get reacquainted with ones you have met a previous rallies. Then there are the fantastic potluck meals. The food is fantastic. So much of it and such a variety. The whole rally experience is great. Camping with a group makes the whole camping trip much better.
Not only is 98.6 back, the sun is back. Our rain from yesterday has passed. That is the good kind of rain, it only lasts a day. Gorgeous day out today. Sharon is off to a local radio station promotion to see if she can win tickets to the San Diego Wild Animal Park.
The picture below gives a whole new twist to, "diesel pusher". This picture was taken along the California coast. You have the beach, beach side parking, the road, a short rise and the railroad tracks. The flat area above the train is where the 101 freeway is. This picture was taken at Rincon a while back. Yes, that is our Bounder. I was looking through pictures this morning and thought you might enjoy it.
Our New Diesel Pusher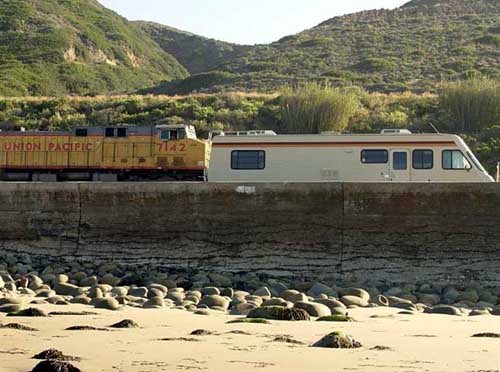 RV Living Home
Honda Generators
Making Money While RVing
Site Feed