Candlelight Dinners
Dinner By Candlelight Adds A Romantic Touch To RV Dining
---
If you live or travel in an RV, that is no reason to give up what you love at home. Add a little elegance to your RVing experience. Light some candles for dinner. Candlelight dinners add to your RVing experience.
We eat dinner in our motorhome every night. We have been doing this since March of 2004. Although we are not full-time RVing, we are psyching ourselves up for that time. My wife and I have decided that candles at dinner every night are a nice touch. Sharon's favorite is a vanilla scented candle. I like the clear gel candle with decorations inside.
Dinner is just burritos tonight, but we still have candlelight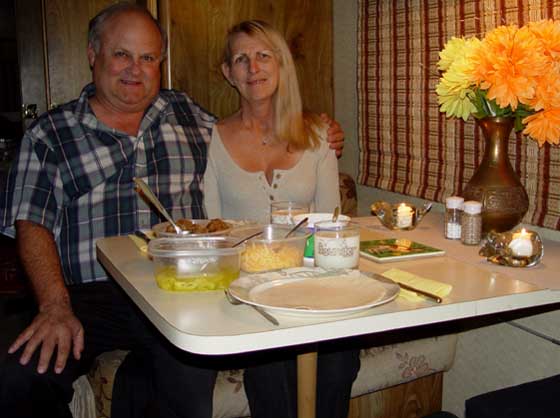 No, we did not have candle light dinners in our home very often. Although my wife loves candles, that was not when she burned them. Now, we light them every night. We light elegant tapers in glass candelabras and we light fun cherry pie shaped ones. Our favorites are those in clear glass containers. The light of the candle shines through the glass better. It shines down as well as up.
Look at this beautiful sleeping cat. Would you believe we bought her at a local dollar store. I wish we had bought two, since they no longer have them. Oh well, we have a variety of nice candle holders. Guess what? We found a bird candle holder just like the glass cat. You can just see the reflection below the glass. I like this feature in clear glass candles.

One thing, we never leave the candle lit dinner table with the candles burning. This is a safety issue. We are careful not to keep the napkin holder near a candle. We do not put the candles near the pull down "curtains". Use common sense and be careful and you too can enjoy the romantic soft light of candles at dinner. Look for quality candles at Candle Bay
We also have glass enclosed candles that we can take outside and use on a picnic table. The enclosed candles do not blow out in the wind or breeze very easily.