Thursday, April 14, 2005
Epson Stylus Pro 4000 -- I Am Impressed
WOW! I bought 13"x19" paper for this printer and am really impressed with how great pictures look in large format. I told you yesterday I bought the wrong paper. Lower quality Epson inkjet photo paper instead of heavier quality stock. Even on this cheaper paper, I am very impressed with some of the pictures. A 12" x 15" picture of my granddaughter looks great hanging on the wall. It is "Messy Jessy" because she is covered in baby food.
This If Fun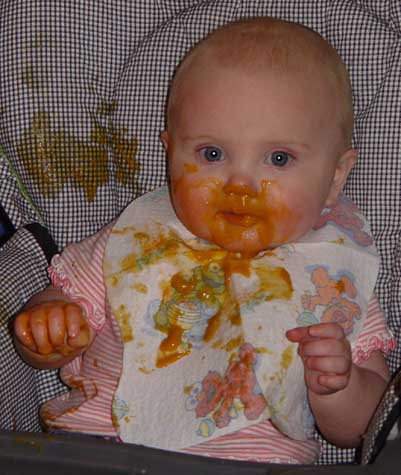 If you recall, I said I would like to learn to earn an income from selling pictures. There are a lot of ways to do that:
Sell on Ebay
Sell to stock photo company
Create a web site to sell on
Sell at local sidewalk arts and crafts shows
Photograph events and sell to publications
Sell grand opening photographs to local businesses
Sell grand opening photos to parent company
I am sure there are other places and ways on could make in income with photography and/or printing pictures. Do you enjoy photography. RV'ers are often in very beautiful places with opportunities for gorgeous and interesting pictures. Do an internet search for "selling photographs". Who knows you may see an opportunity you would be interested in.
My plan is to start selling pictures on Ebay. I am familiar with Ebay and how it works. The prices on Ebay would be a lot lower than many other outlets, but it can be made up in volume, IF selling there works well.
Taxes and a new toy do not work well together. I still do not have my taxes done. Two days left. I am almost done and TurboTax makes it easy, but I am having too much fun "playing" to get them done.
Breakfast this morning was a bowl of strawberries and bananas. Here in Oxnard, California we have a 12 month strawberry growing season. We can get local grown strawberries all year long. The coastal weather is ideal for them. Our year round average temperature is 77 degrees. Summer is not hot and winter is not cold, at least WINTER cold.


RV Living Home
Honda Generators
Making Money While RVing
Site Feed