Sunday, April 17, 2005
Farmer's Market Day -- Another Beautiful Day
Sunday is the Farmer's Market day at our local harbor. There are fruits and vegetables, flowers and growing plants and vendors selling a variety of things. They also have portable food concessions. I like the tri-tip burritos and Sharon likes the tri-tip sandwiches. Of course if we go early, we miss lunch, but will stop at SpudNuts for a donut and coffee on the way home.
While walking our dog in near our office, we pass by many fruit and vegetable packing houses. We even go by the Smuckers strawberry jam plant. Sharon was talking to one of the workers in a packing house and she gave Sharon a one pound container of strawberries the other day. Yesterday as we walked past with Poky The Dog, the woman motioned to us asking if we'd like some more. This time she gave Sharon a two pound container of strawberries. YUM!!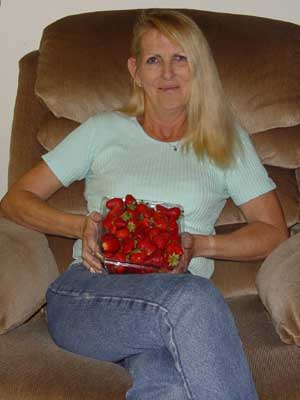 Yesterday was not our lucky day. NOT unlucky either. We just did not win the cruise to Mexico. Both Sharon and I won a country CD from our local country station who was MCing the event. The BBQ was hot dogs and hamburgers — fair food. However, the brownies were delicious.
Tuesday and Wednesday we are going out to the desert to see the poppies. We hope there are still plenty to see. After that we will drive on to our son's home to visit him, his wife and our granddaughter who we have posted pictures of in the last few days. Our son lives about 150 miles away and the poppy preserve is about 3/4 of the way there.
RV Living Home
Honda Generators
Making Money While RVing
Site Feed