Wednesday, April 13, 2005
I Bought The Epson SP 4000
I have started thinking more and more about photography. I was at a HUGE camera shop yesterday, Samy's Camera. A chain store and was drooling over the cameras and lenses.

I bought the Epson Stylus Pro 4000 yesterday. I have only printed two pictures so far. An 8x10 of the baby picture I posted in here the other day. It has MUCH better color reproduction. The old picture by itself looks great. Beside the 4000's picture, the color is just a little yellow, not quite as true. Then I printed a large picture on 13x19 paper. Impressive, and I only used cheap inkjet photo paper -- thin like regular paper, just ultra white on one side. (I bought the wrong paper) It is really a BIG printer 33" x 30" x14".
Here Is Idea Of The Printer Size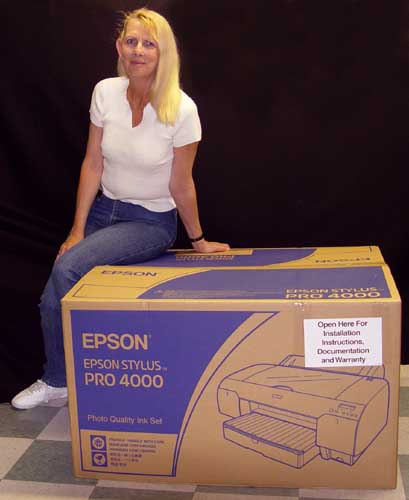 In spite of the quality of the new Epson printer, our HP 3650 inkjet printer still makes very nice photo quality prints.
I am still in income tax mode so I will not be "playing" with the printer much until next week.
OH, I almost forgot. Here is the photo album I created from the San Dimas California Rally we just got back from Our Rally Photo Album

RV Living Home
Honda Generators
Making Money While RVing
Site Feed