Tuesday, July 12, 2005
Not Camping Today ---- I Forgot'
I forgot that today is trash day. We have to put the barrels out tonight. Since the business next door usually forgets to put out theirs, depending on them is useless. Our barrels are full due to the warehouse work we have been doing, so we can't miss trash night.
Tomorrow is camping day and we have decided for sure to spend one night also. I think we will drive 2 to 5 miles further down the road and camp at Leo Carillo State Beach. We haven't camped there yet. It is like Sycamore Canyon, it is across the street from the beach. You can't see the ocean from the campground.
Remember I told you Sharon saw a swarm of bees on her walk the other day? They weren't there at 8 in the morning, the were there at noon and were gone by about 5 in the afternoon. In that short time that they were just hanging around waiting to find a place to live, they had already started making honey combs. Below is a picture of one of the leave they had started out on. This was the best, the others that were next to this one only had a little bee's wax on them and none had this structure.
Bee's Wax On A Leaf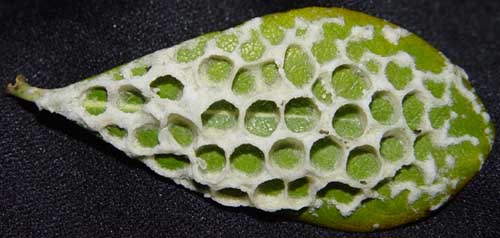 Sharon and I are both still exercising daily. I was up to 9 mile on the exercise bike, but today I tightened the knob to make it harder to pedal and I only did 5.5 miles in 20 minutes. My goal is 30 minutes every day on the exerciser. We are also doing exercise with light weights. Mine are two 7 pound dumbbells and Sharon's are 5 pounds each. Not very much weight compared to people "pumping iron", but let me tell you, they wear me out anyway.
I tried to install my router yesterday, but I still can't connect two computers at the same time. I will e-mail Earthlink today and see if they can help. I WILL NOT call them again. I really don't thing the techs in India do anything but read off of a script.
Yesterday I called my phone company, Verizon, about their DSL. I can get a faster connection for about $12 cheaper than Earthlink and when I talked to their tech support people, it was American you actually understood what I was talking about. I will have to buy a $100 modem because the one Earthlink supplied is a slower speed DSL modem that will work, but will keep my connection speed down.
RV Living Home
Honda Generators
Making Money While RVing
Site Feed