Wednesday, November 16, 2005
Knott's Berry Farm Was Great
Yesterday we had our "FREE" day a Knott's Berry Farm. Normal adult admission is $45 per person, so we saved $90. Knott's is fantastic for making this offer available to Veterans, Fire and Police personnel and more.
Sharon and I like the high and fast rides. The old, "Motezuma's Revenge" is still our first ride when we enter the park. "Supreme Scream" is a really thriller. It takes you high above the park and just DROPS you. What an exhilarating feeling. "Excelerator" is a 1 minute ride from the moment it "takes off" until the moment it is back in the station. WOW! what a ride. Instant acceleration and straight up about 20 stories and then almost straight down. It is worth waiting to get in the front seats. THRILLING!
The stores and people were fun too. PEOPLE! What people. There were no lines. You could ride two or three time without getting off and getting back in line. Sharon said it was strange to be the only woman in a restroom, when she normally has to wait in lines. Going to tourist places in the off season is great. Going during the week is even better. The park hours are shorter, but no lines mean you actually can ride more rides in a that time.
HOW TALL? Look how small riders are. YIKES! SCARY!!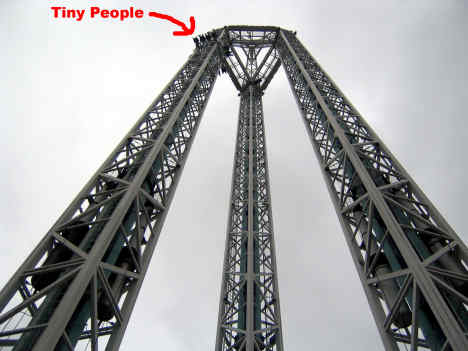 RV Living Home
Honda Generators
Making Money While RVing
Site Feed