Friday, November 11, 2005
Are You A Veteran?
I spent three years in the United States Army. Happy I did, but glad I didn't make the military a career. Today is a holiday for most people and many things are done across the country to honor Veterans who have served our country in time of war and peace. Our local Elk's Club had a free pancake breakfast for Vets. Sharon and I went, since our local country music station was promoting it. I was free and Sharon was only $3. A good pancake and sausage breakfast.
Afterward we spent some time around the Ventura Harbor and then over at Silver Strand Beach where we used to live. We truly love spending time on the beach. Walking on the beach, listening to the waves crashing and today we were watching a lot of surfers. Being a holiday, lot of kids had their boards out in the water.
On Tuesday Sharon and I will be going to Knott's Berry Farm. Knott's honors Veterans by letting them and a guest in for free during most of the month of November. They do this every year. After honoring Vets, they honor police and fire personnel until December 18th by giving them the same free entry offer. No strings attached. Check it out at http://www.knotts.com/park/calendar/index.asp WOW! I just noticed they also are giving free admittance to "County Welfare, Human and Public Social Services Employees".
Since we will be going camping for Thanksgiving, we do not have any trips scheduled before then. I would almost like to go out next wee, but we really need to get some more work done.
Starfish in the water this morning —Silver Strand Beach — La Jenelle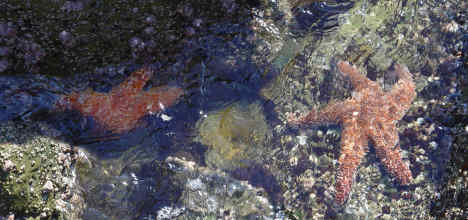 RV Living Home
Honda Generators
Making Money While RVing
Site Feed