Tripods and tripod booties extend the use of your camera. Carrying a tripod with you increases the quality of many pictures and allows everyone in the family to be in every picture.
Tripods and Tripod Booties
Use your tripod more often.
Be sure you have it in your RV
---
One of the most under used pieces of photo equipment is the tripod. How many times have you seen someone taking a picture of the rest of their group. A tripod would let everyone be in the pictures they take. Why depend on a stranger to take that once in a lifetime honeymoon picture. You will get home and find your heads cut off or a crazy angle to the picture. Take along a tripod and use the self timer on your camera. You will have more and more beautiful memories with everyone in the pictures.
Tripods and tripod booties. Your tripod should go with you rain or shine, snow or mud. The thing you need to do is make a pair of booties for your tripod feet. This can be as simple as baggies tied onto the feet with rubber bands to homemade "boots" that close with Velcro. When you are at the beach or in the mud, you can safely use your tripod. No dirt to clean off, no gritty slides or rusty mechanisms. Make longer waterproof "boots" (plastic bags) and you can even put your tripod in gentle saltwater surf or in the edge of the water at the lake.
Do you only have ONE tripod? You can use 2 or three. There are the heavy duty tripods with thick legs and quality heads. You can also get light weight tripods for ease of carrying on all day jaunts. Then there are the little desk top tripods that will fit in a pocket or a purse. These are great. Set them on a table, a log or a rock.
There are also one legged monopods that come in handy in crowds and other places 3 legs get in the way or are inconvenient to carry around. On one of my tripods, I bent one of the legs. I removed that leg and one other and had my own homemade monopod.
Here are 3 of my tripods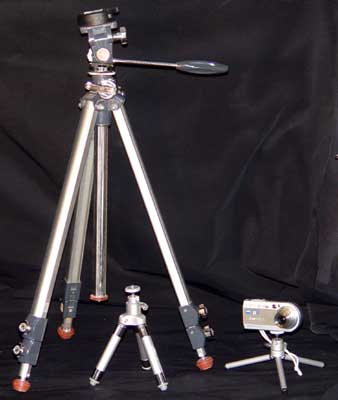 When you use the tripod one minute and not the next and then back to the tripod, a really handy item is the quick disconnect shoe. It permanently mounts on the tripod and its mate mounts permanently on the camera. PERMANENTLY? Well, they screw on and are easily removed, but you just might want to keep them installed and almost never take them off. This makes it even more handy and you will find yourself using your tripod more often.