RV Portable Ice Maker
Having plenty of ice while camping is easy
---
Do you have a portable ice maker in your RV? Maybe you should. The modern ice maker makes ice so fast you won't believe it. Can you believe you can make 12 ice cubes in 6 to 8 minutes? Just plug in your ice maker to a standard 110 volt AC outlet, add water, have a cup of coffee and look for your ice. It's that fast.
Now you must be thinking, where on earth would I put a huge ice maker. Think no more, since they are not huge. You can get one that is only about a 16 inch cube. That is 16 inches by 16 inches by 16 inches. Not only is is small in size, it is also light weight. It only weighs 48.3 pounds. This is truly a portable unit.
These ice makers are small enough to store under your dinette table. They will fit in many RV basement compartments. If worse came to worse you could store it in your shower. Click the link below to see more details.
Imagine, almost 30 pounds of ice a day. You could have a party with that much ice. Check it out here portable icemaker
Not only will you be the hit of your next group camping trip, you will always have plenty of ice at home. If unexpected guests arrive, you'll be able to make extra ice in minutes. Store some up for filling your ice chests. You may never have to buy ice again.
With small RV freezer compartments in many RV's, this could be just what you need. There are more and more modern conveniences that can make your camping life a real pleasure.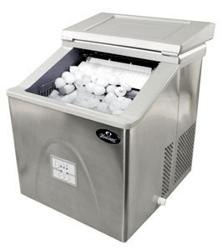 Portable stainless steel icemaker


With this one you could make 29 pounds of ice a day. Is that amazing or what?