RV ERS Insurance
You Should Have RV Emergency Road Service Insurance
---
Keep you and your family safe on the road
RV ERS insurance can save you a lot of money the next time you have a breakdown on the road. Emergency Road Service Insurance or ERS is important when you have a huge vehicle that must be towed. If you have two vehicles to tow, an RV and a tow vehicle or a towed vehicle, it is important that your ERS insurance covers all vehicles you will need to move.
When I checked into ERS insurance, I already was a member of AAA or American Auto Club. I had their roadside assistance service. As I checked into it further, it did not seem to cover an RV as adequately as I would like.
Next I checked into Good Sam Emergency Road Service and I was impressed with what they offered. Total coverage to get me off of the road and to a safe place in the event I had a breakdown. They not only cover my RV, but also all of my personal vehicles.
I keep reading on the internet how happy people are with Good Sam ERS. They say things like, "they will send ,what it takes to get you out of the situation". You can check them out at RV Emergency Road Service from the Good Sam Club
When we broke down on our second RV outing in our Bounder, Good Sam took care of us at not cost to us. They towed us to a local mechanic where we got our repairs done. While we were waiting to be towed, they called back to check on use to see we were OK. I was totally pleased with their service.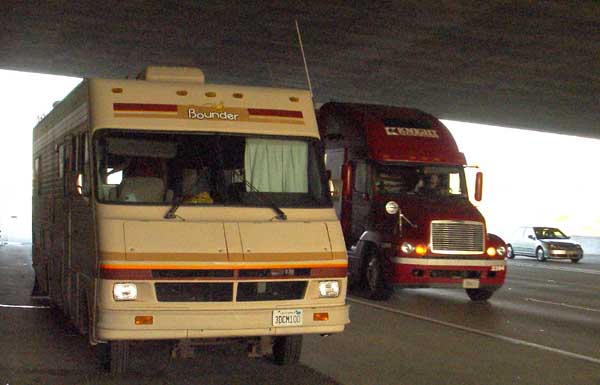 Camping On The Freeway. Waiting for Good Sam ERS rescue
RV Emergency Road Service from The Good Sam Club -
The most comprehensive RV road service available - Click here to find out more
There are other ERS programs, such as AAA, but for my money, Good Sam offers the best package and best coverage everywhere you go.