RV Computer Desk
Where to put a computer desk in an RV and how to set up a work station.
Here is one solution to computer while RVing. A desk and hobby work table
---
Where to put you computer in an RV is a difficult question. . The problem is there is often no desk or table space dedicated to computers or hobbies. This means you work at the dinette or on your lap. There is no place to put a big computer desk in an RV. Maybe you you have a fold down table, but it is too high to comfortably or ergonomically work at. The wrong angle while typing can lead to discomfort and eventually the possibility of tunnel carpal syndrome -- pain in the wrists.
I bought a GREAT computer table for our motorhome. It was on sale this at Office Max for $39.99. The normal price is $59.99. The desk is made by Carina and is model NT20. It is made in Brazil.
The table is on wheels and goes where ever you want to roll it or take it outside to work. What is really great is it rolls under the edge of the RV couch for storage. The back tray can either be removed or reversed so it is out of the way. As you can see, this would also makes the perfect hobby work table.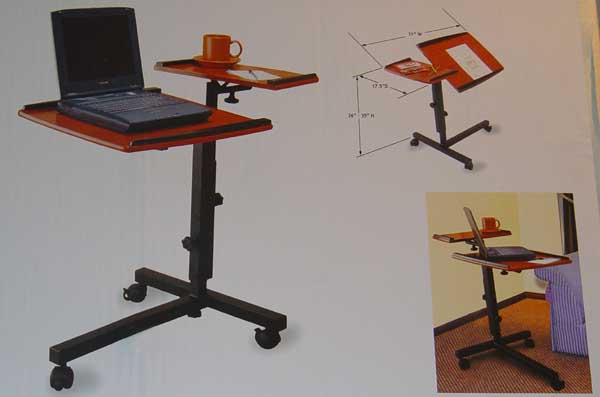 As shown in the picture from the box, it can have various heights and angles for both sections of the desk surface. You can use it for your computer desk one day and an easel the next. It is a computer desk. It is a hobby table. The table is 25 1/2 inches tall at its lowest level and 37 inches tall at its highest.
Below you can see how it easily stores under the edge of the couch when not in use. Notice the side piece reverses so it is also out of the way. You can also remove that piece and store it elsewhere if you permanently mount a monitor on the table. I am planning on mounting my flat screen monitor to the table by drilling through both the monitor base and table and bolting it in place.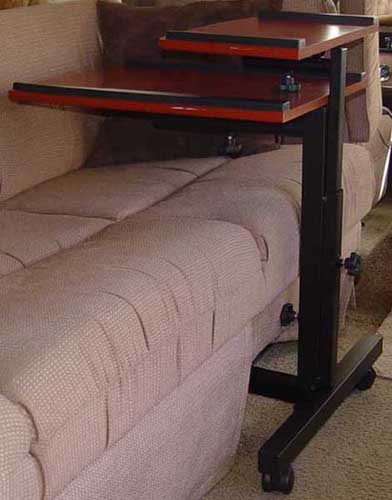 I call this the storage position, but you could also push it straight out from the couch just as it is. Now you could mount a printer on the raised platform or put you LCD monitor there. Mine fits on that addition very nicely.
Can you see the hand tightening screws in the picture above. There are four of these. Two for height on each section of the desk parts and two for the angle of the table, flat for computer work or angled for use as an easel.
One warning. If you are going to use this as a computer table, drill a small pilot hole and screw a self tapping sheet metal screw into the tubing that holds the table. This will LOCK the table so it cannot rotate with you computer equipment on it. Yes, the hand tightened screw is supposed to hold the table firmly in place. I will not trust only one screw to hold a thousand dollars worth of computer equipment in place.
So there is no confusion, this screw goes under the table top and into the round tube. The table top is held by a round tube that slides onto another round tube. This is what allows the table to rotate for different jobs. The screw you screw into through the walls of both tubes is a locking "pin" to keep the table from rotating by accident.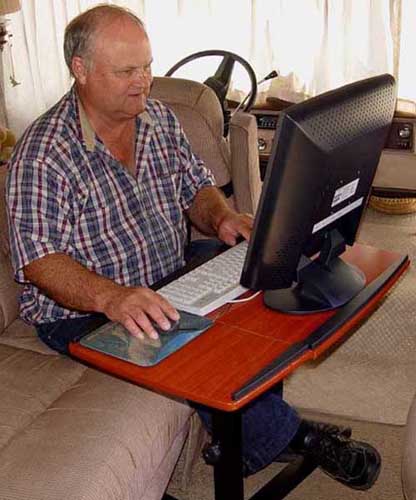 I may mount a wire in/out basket under the desktop for papers or other supplies. You could add a hinged side piece to this table if you needed additional work space. This is a plain and simple table, but a little imagination and you can make it into the perfect personalized RV computer desk and hobby table.

An important thing to remember is to anchor the table and whatever you keep on it securely to something. A rolling table and contents could become dangerous in traffic situations. You want a very secure anchor so even in a hard stop or light crash the table would not move or items on it would not go flying.