Monday, November 14, 2005
Free Ebay Manuals Available Now
OK, OK! A couple days turned into a few more. I need to quit saying I'm going to get things done until I KNOW they are going to actually be done. The FREE Ebay manuals are available now at Free Manuals. You can download and print these. There is a free "Ebay Buyer's Guide" and a free "Ebay Seller's Guide".
Did you see the "mess" I made of the Ebay Seller's manual I bought? See the blog Nov 9 at Bob's Manual. I thought Post-It markers would be a good way for two people to read the same manual at the same time. Using the Post-Its would not make the manual so messy with tons of highlighting in different colors for the two of us. I won't do this again. There are so many pieces of paper stuck in that book it is not funny. We will not do this again. Of course, normally we aren't both reading the same book at the same time.
I told you about Veterans getting into Knott's Berry Farm for free — see November 11th blog page for details. Tomorrow, Sharon and I will be going to Knott's Berry Farm. We still enjoy the roller coasters, but not all of them. The "drop ride" is exhilarating. People watching is fun. The 50's cafe has good burgers at a reasonable price. We have a good time.
Yesterday, Sharon heard a helicopter flying overhead. It was a police helicopter. A while later we went to leave for the Farmer's Market and our street was coned off. Orange cones for blocks and POLICE down a couple blocks to the left. UH OH! Are we in danger? I got my camera and walked toward the police cars. Lots of people were gathered — maybe a demonstration or beginning of a riot. We got closer and heard gospel singing. OK, not a riot. It was a parade for the grand opening of the St Paul Baptist Church which is about 6 blocks from here.
Mini-Parade Celebrating A Church Opening


CSI — Crime Scene Investigation. That is what was on the side of the van that just drove by while I was out walking Poky. There was another murder about two blocks away. This is the third within a short distance of our warehouse that I know of. We are in a gang banger city, so it is usually gang related. This one occurred some time before 7:00 p.m. last night. The street is still condoned off with yellow police tape.
Murder Crime Scene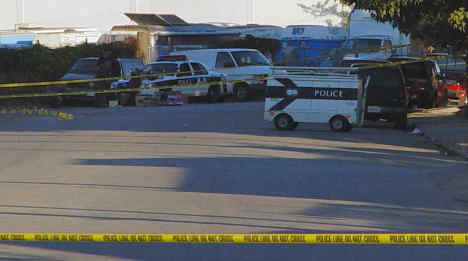 RV Living Home
Honda Generators
Making Money While RVing
Site Feed