Monday, September 12, 2005
Great Weekend Getaway
What a great getaway we had. Visiting family is always fun. I was going to ad pictures yesterday, but Jessica got up and who wants to be on a computer with a grandbaby to watch.
I am always amazed when I go to Bear Valley Springs. When I think of a gated community I think of homes or condos all crammed together in a few city blocks or less. In the picture below everything you see is part of Bear Valley Springs, including the mountains. There are roads up to homes there too. There are areas where the homes are "close" together in "housing tracts", but each home is on a generous lot. Other places there is a single home on a hillside overlooking the valley. To learn more about this area go to Bear Valley Springs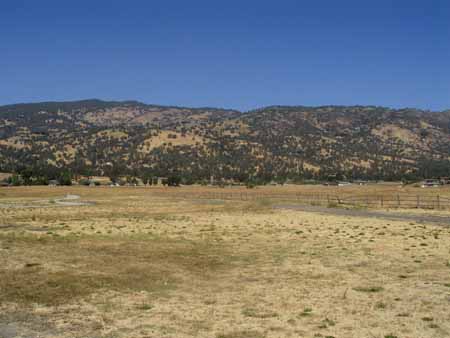 A Small Part Of Bear Valley Springs
When we arrived my son brought up a handful of kittens. Four little black bundles of fur. That evening when we came back from flying the airplane, he brought up two just born kittens. These two were born to a different mother while we were out. He has two indoor cats that occasionally get out. He keeps saying they need to be spayed. OK, how many kits, kats sack and wives……….OOPS!! that's another story. How many cats does he have? Only 16. Two mother cats with six kittens between them. Two grown kittens from a previous litter. Six stray kittens from his barn where a stray mother gave birth and then disappeared. Hopefully the strays go to a vet today. The vet will try to find homes for them. I guess it is a cat rescue of some sort.
We left from one of the parks in the community. Once again, all you see in the background is part of Bear Valley Springs. The lake behind is the smaller of their two lakes. There is a playground for children here. This is really a total community.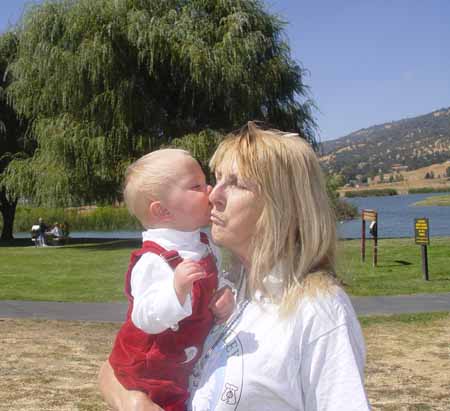 Saying Good-bye. A kiss, A kiss.
Friday I was a little delussional when I said I'd have my recommendations for the website building programs I use here for you today. I was gone all weekend. I did not write anything up on them. I will have those for your tomorrow morning, I promise.
RV Living Home
Honda Generators
Making Money While RVing
Site Feed